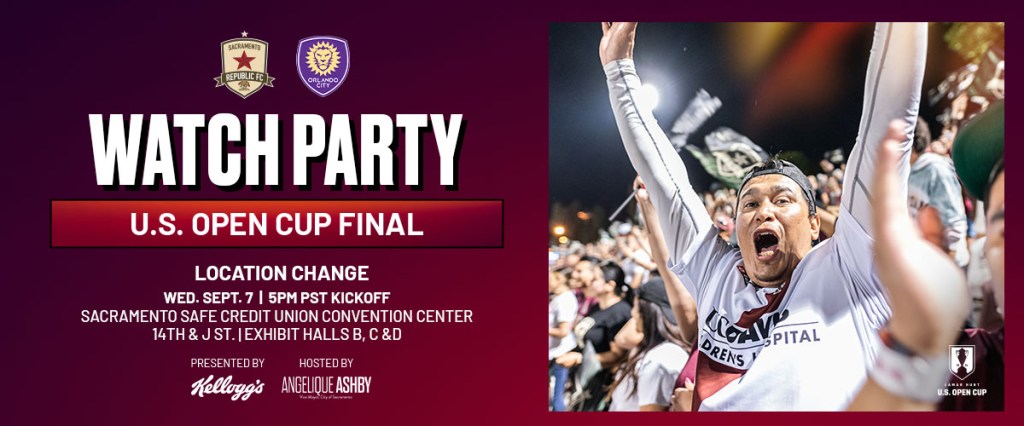 LOCATION CHANGE: Due to extreme heat and elevated air quality in the region, Wednesday's Watch Party for the U.S. Open Cup Final will now be held at Sacramento's SAFE Credit Union Convention Center in the main event hall on the first floor – showcasing the facility's renovated spaces including Exhibit Halls B,C & D. Fans should use the 14th & J Street Entrance. 
RSVP for the US Open Cup Final Watch Party!
Presented by: Kellogg's
Hosted by: Vice Mayor Angelique Ashby
Cheer on the boys in red and white at the biggest watch party in Sacramento sports history! Join us for the 2022 U.S. Open Cup Final Watch Party presented by Kellogg's on September 7th as the hometown squad takes on MLS side Orlando City in a battle for the oldest tournament cup competition in United States soccer.
Admission to the Watch Party is free – but RSVP is required for entry.
Event details below:
What: U.S. Open Cup Final Watch Party | Sacramento Republic FC vs. Orlando City SC
Date: Wednesday, September 7th
Time: Doors Open at 4 PM PST | Kickoff is at 5PM PST
Where: Safe Credit Union Convention Center |14th and J Street | Exhibit Halls B, C, & D
RSVP: Click Here (Reservation required for entry)
Arrive Early – The first 2,000 fans in attendance will receive a Republic FC flag courtesy of Vice Mayor Angelique Ashby.
Exclusive US Open Cup commemorative matchup merchandise will be available for purchase at the event along with food trucks and beverage stations courtesy of Housely's Century Oak Winery and White Claw. Other accommodations including free Cheez It's, Pringles and other Kellogg's branded snacks will also be provided by our watch party host.
As part of the club's core value to a unified community, Republic FC and its partners will be donating $10,000 to Wellspring Women's Center, a drop-in day center that has been serving women and children in need for 30 years in Oak Park. Fans are encouraged to make an additional donation when reserving their space for the event.
Rules and Regulations
We want to ensure everyone has a safe and enjoyable time at the watch party. Please review the rules and regulations prior to entry!
Watch Party Rules:
All ages are welcome.
Everyone is subject to a search at entry.
Smoking is only allowed in designated areas marked.
By entering this area, you consent to your name, image and/or likeness being used without compensation.
Leave at Home:
Alcohol- you can visit our partnered drink locations for drinks!
Glass and cans.
Drugs and drug paraphernalia.
Weapons, pepper spray/mace, flares and fireworks.
Animals. (Service animals ok)
Bags larger than 1.5 ft x 1.5 ft
Drones and remote control toys.
Unauthorized solicitation or giveaways.
Any other items deemed unacceptable by management.
Disruptive behavior

No sitting, standing or loitering in designated fire lanes or walkways.
No taunting, abusive or insulting language.
No obscene or offensive gestures, imagery, or symbolism.

Event producers reserve the right, without refund of any amount paid, to refuse admission to, or eject, any person whose conduct management deems disorderly, who uses vulgar or abusive language or who fails to comply with event rules.
In an effort to Keep COVID in Check, we are following all Sacramento County Health Order and the California Department of Public Health Guidance for vaccinations and the use of face coverings.