In Partnership with UC Davis Health
Throughout September, Republic FC, along with founding partner UC Davis Health, will join soccer clubs around the country to raise awareness of childhood cancer and supporting patients and their families.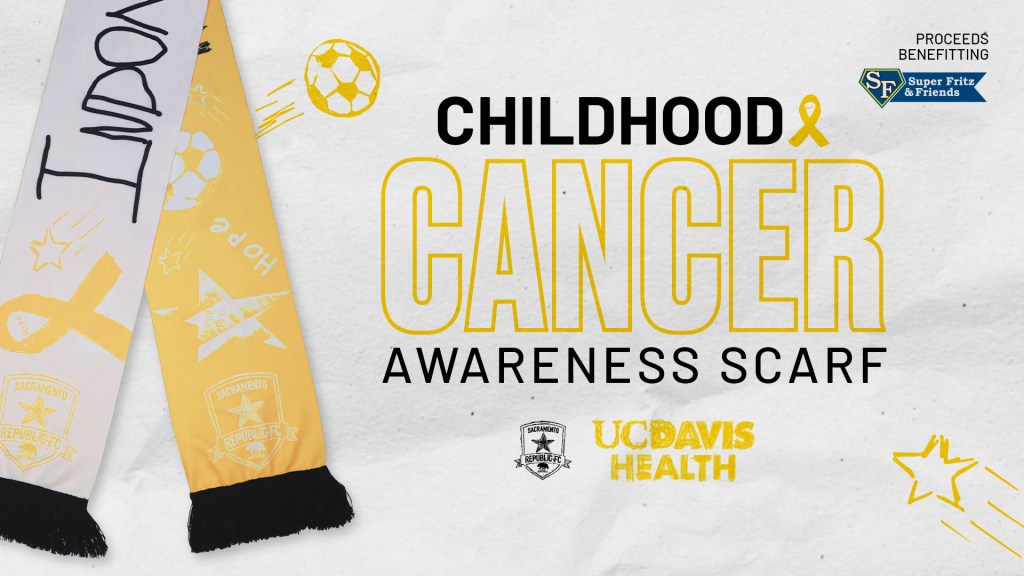 This year, Republic FC and UC Davis Health turned to the brave children enduring and fighting pediatric cancer to create a special item to show the world their indomitable spirit. The Fritz & Friends Scarf was designed by Riley Blum, Fritz Stark, and Emily Love – three childhood cancer survivors who were treated at UC Davis Health. It is now available in the team store, and proceeds will support patients and their families through the Super Fritz & Friends Fund, which was inspired by one of the scarf artists.
The limited-edition bright gold scarf – the color that represents childhood cancer – includes several special elements that were drawn by the young artists. On the front: the word "hope," along with Republic FC's crest and the UC Davis Health Logo. The back features a gold ribbon and the word "Indomitable" – a nod to one of Republic FC's core values and the unconquerable spirit shown by the young artists during their cancer fight. The scarf is available online at Shop.SacRepublicFC.com and at Heart Health Park merchandise stands during home matches. The club has also used elements from the scarf to create a special activity book that will be delivered to pediatric patients at UC Davis Health. Purchase Fritz & Friends Scarf >>
TRAINING TOPS AVAILABLE FOR AUCTION
At Republic FC's September 10 home match against Loudoun United FC, the players sported custom pre-match training tops designed by the scarf artists that will be auctioned off to benefit Super Fritz & Friends.