After a pair of draws against Las Vegas and New Mexico, and a thrilling win in the final moments on Sunday, Republic FC welcomes back U.S. Open Cup play for the Round of 32. Phoenix Rising FC comes to town for the two clubs' first meeting of the season and their first-ever outside league play with a trip to the Round of 16 on the line.
The match has everyone's focus, as shooting for domestic glory and a chance at U.S. Soccer's oldest trophy is a big deal to the entire squad. Adding to that spectacle is an opponent that has made things tough for Sacramento historically – Wednesday will be the 20th time the club lines up opposite Phoenix, a series of matches that's seen each team take six wins, six losses, and seven draws. To best them, the club knows they'll have to run a tight ship.
"They're [Phoenix] a good team. They will be coming here with confidence," said Mark Briggs. "We know what they bring and we know how they play, so we've got to be prepared."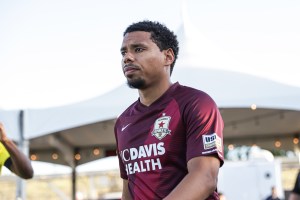 "We just need to go out there, do our best and whatever we can to win," said Zeiko Lewis on Monday.
Especially against a quality opponent, the club is ready for the fans to be on their side for the third time in two weeks. Republic FC is unbeaten at home this season in part due to how difficult it's been for opposing teams to come to Heart Health Park, and they'd like to keep that going. The squad knows that their home faithful gives them an extra push too, helping them give that extra effort no matter the circumstances.
"The [fans] have been our 12th, sometimes 13th man this season," Lewis continued. "Even when we hit rough patches, they're always there supporting us and pushing us."
"I think our players thrive in a home atmosphere," Briggs said. "I thought the fans were exceptional in the last game – and we need to make Wednesday hostile and [Heart Health Park] a horrible place for teams to come."
To advance to the Round of 16, Sacramento's again counting on contributions from every member of the roster. For most teams in the midst of a stretch like the one Sacramento's faced, that would be a tough ask; but those who have come off the bench for Republic FC or filled in for others throughout the season have been exceptional. It gives the club confidence that any player they call upon can make an impact regardless of what is asked of them.
"In the games we've won, everyone who's come in as a substitute has made an impact," said Rodrigo Lopez. "That's what we need – we need guys to come in and make an impact, [and] give us that push in whatever minute it is."