---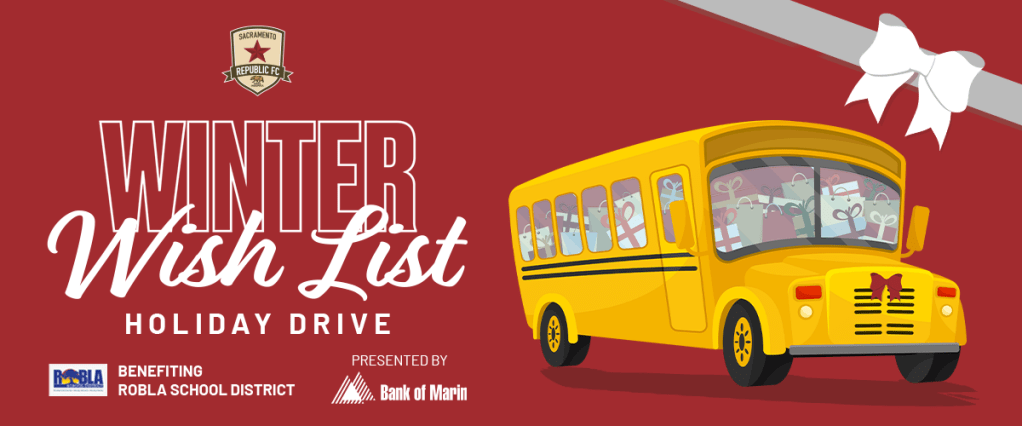 Winter Wishlist has returned! This holiday season, Republic FC is teaming up with Bank of Marin and Sacramento County Supervisor Phil Serna for the club's third annual toy and coat for students in the Robla School District in North Sacramento. Robla is one of the oldest school districts in the region, and faces many challenges. More than 90% of the district's families living at or below the federal poverty line and over 20% of students without a permanent address.
Now through December 9, fans and community members are encouraged to donate new toys and coats for kids ages 5-12 to provide a special gift for the students in North Sacramento's Robla School District.
---
What can I donate?
Toys
New & unwrapped only
Age appropriate for 5-12 year olds
Coats
New with tags only
Sizes: Youth XS – XL or 5-14
---
Give Online
Amazon
Select from a variety of age-appropriate toys and coats, specially-curated with the Robla School District students in mind. Purchases will be shipped directly to the Republic FC front office for distribution.
Monetary Donations
Let us do the shopping for you! Make a donation to the Republic FC Foundation through the Team Store to benefit the Winter Wishlist program.
---
Donation Drop-off Locations
The Mimosa House – All Locations
East Sacramento – 5641 J St, Sacramento, CA 95819
El Dorado Hills – 2023 Vine St #102, El Dorado Hills, CA 95762
Roseville – 761 Pleasant Grove Blvd, Roseville, CA 95678
Rancho Cordova – 3155 Zinfandel Dr, Rancho Cordova, CA 95670
Folsom – 25075 Blue Ravine Rd, Folsom, CA 95630
Gold River – 2180 Golden Centre Ln, Gold River, CA 95670
At Ease Brewing Company
Midtown Sacramento – 1825 I St, Sacramento, CA 95811
Saha Float Spa
Midtown Sacramento – 1432 Q St, Sacramento, CA 95811