---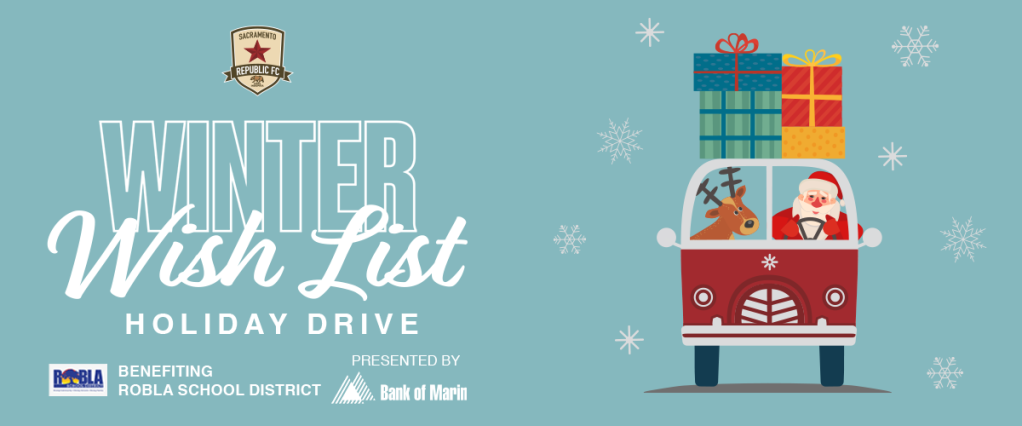 Winter Wishlist has returned! This holiday season, Republic FC is teaming up with Bank of Marin for the club's fourth annual toy and coat for students in the Robla School District in North Sacramento. Robla is one of the oldest school districts in the region, and faces many challenges. More than 90% of the district's families living at or below the federal poverty line and over 20% of students without a permanent address.
You can support this incredible effort by fulfilling items on our Amazon Wishlist!
---
What can I donate?
Toys
New & unwrapped only
Age appropriate for 5-12 year olds
Coats
New with tags only
Sizes: Youth XS – XL or 5-14
Drop-Off Locations
Explore nearby drop-off points for our Winter Wishlist campaign! Our partners provide designated boxes to easily donate wishlist items and make a meaningful impact this season.
LeFive Rancho Cordova, 11115 Folsom Blvd Suite 200, Rancho Cordova, CA 95670
LeFive West Sacramento, 3940 Seaport Blvd Suite 200, West Sacramento, CA 95691
Mimosa House

East Sacramento, 5641 J St, Sacramento, CA 95819
El Dorado Town Center, 2023 Vine Street, El Dorado Hills, CA
Roseville, 761 Pleasant Grove Blvd, Roseville, CA
Rancho Cordova, 3155 Zinfandel Drive, Rancho Cordova, CA
Folsom, 25075 Blue Ravine Road, Folsom, CA
Gold River, 2180 Gold Centre Lane, Gold River, CA

G6 Performance, 911 20th St, Sacramento, CA 95811
---
Give Online
Amazon
Select from a variety of age-appropriate toys and coats, specially-curated with the Robla School District students in mind. Purchases will be shipped directly to the Republic FC front office for distribution.
Monetary Donations
Let us do the shopping for you! Make a donation to the Republic FC Foundation through the Team Store to benefit the Winter Wishlist program.