Sacramento Republic FC and Western Health Advantage, joined by non-profit partner WellSpace Health, are taking another bold step in prioritizing community health and utilizing the reach of sports marketing for good.This season, Republic FC's first team and academy jerseys will feature a patch on the right sleeve promoting 988 – the national Suicide & Crisis Lifeline.
Throughout the year, Republic FC and its partners will continue to highlight mental health by driving awareness through community investment programs and beyond. As part of the partnership, a portion of the proceed from every kit sold will support local mental health and wellness initiatives through non-profit partners.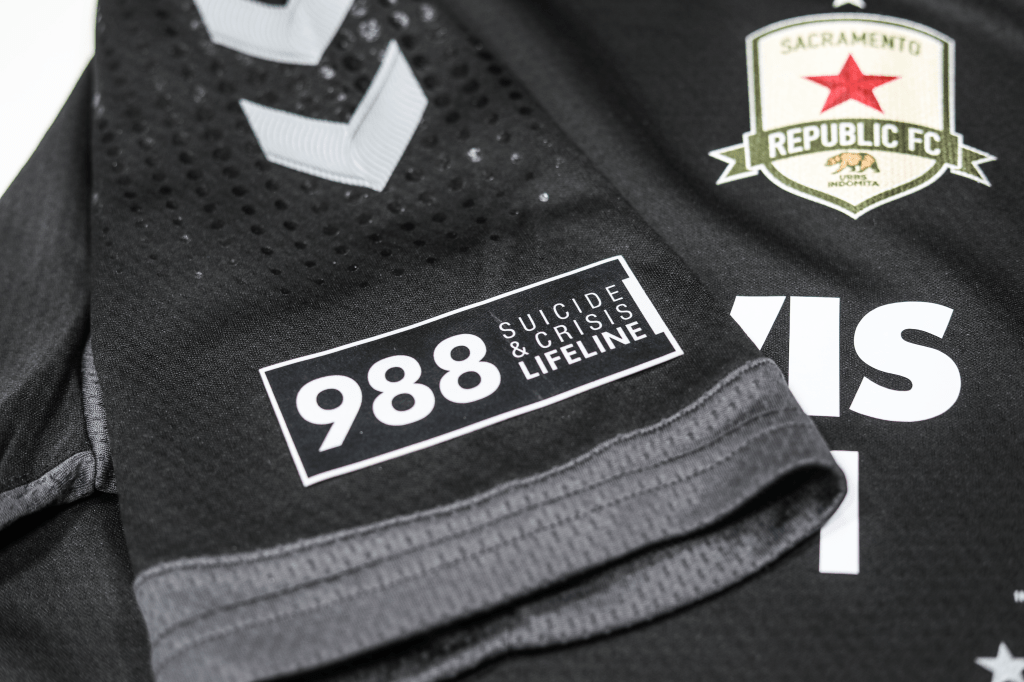 ---
Who's it for?
988 is available for anyone who is having thoughts of suicide, a mental health or substance use crisis, or any kind of emotional distress. Counselors are also trained to assist family and friends who are seeking support for a loved one experiencing any of these concerns. The service is available in English and Spanish, with crisis centers utilizing tele-interpreters to support over 240 languages.
How it works
Since 2005, Lifeline has established a network of over 200 crisis centers throughout the country, providing trained counselors to support people in need 24/7 on the phone, as well as via online chat (available at 988Lifeline.org/chat) and text message. Here in Sacramento, Wellspace Health operates the region's lifeline and extends the life-saving program beyond the phone lines to community groups, colleges, high schools and others through presentations and informational outreach.
When a person calls 988, they will be quickly routed to a menu that includes options to connect to the Veterans Crisis Line or receive assistance in Spanish, before being connected to a local crisis center. Once the call is routed, a trained counselor will answer the phone – to listen, provide support, and share resources if needed. If the counselor feels that the person is in danger, they may discuss connecting them with local emergency services, but crisis centers will always try to help with plans that are minimally invasive to keep callers safe.
Those texting or utilizing the online chat will quickly be connected to a counselor.
What happens when I CALL 988?
What happens when I TEXT 988?
What happens when I CHAT 988?
---
The impact
According to the CDC, suicide is the second-leading cause of death among young people, and, prior to the COVID-19 pandemic, was the tenth-leading cause of death in the nation. Every year in the U.S., more people die by suicide than in car accidents, and more suicide deaths occur than homicide and AIDS deaths combined.
The Lifeline has received over 20 million calls from people in distress looking for support when they need it most.