Earlier this month, Republic FC players Duke Lacroix and Luther Archimede teamed up with the USL Black Players Alliance (BPA) and Street Soccer USA to provide a free soccer clinic for local youth – creating a new model for BPA representatives to engage with USL markets throughout the country.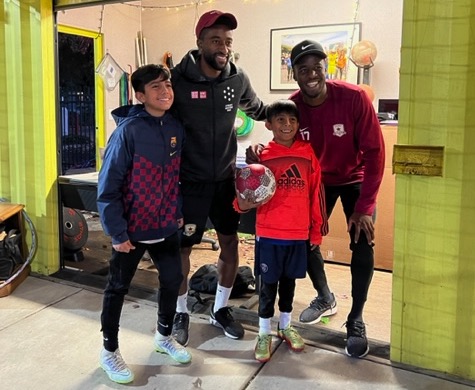 The clinic was hosted by the BPA and Lacroix, who serves as a leader and representative for the organization. Over 30 youth participants gathered at the Union Pacific Street Soccer USA Park in Sacramento to meet and train with Lacroix and teammate Archimede. They worked on a wide range of soccer skills – dribbling, shooting, passing, and overall fitness – while also fostering a new love for the game of soccer. At the end of the evening, everyone left with some free gear, including a soccer ball, to continue to work on their skills at home and promote the mission of the BPA.
Established in 2020, the BPA aims to address the inequity issues in soccer by providing access, support, and resources to those most in need, while also encouraging members to use their platforms to impact their communities. The organization will look to use Lacroix's clinic as a new model for players to get involved in their communities as a part of one of its key initiatives: free clinics in USL markets to eliminate the two biggest barriers to entry – cost and travel.
Fans can support the Black Players Association by purchasing the limited-edition Dream in Color Scarf or Juneteenth Boot Bag. Proceeds from both items, designed by Lacroix, benefit the BPA and its partner organizations.