Tulsa, Okla. (April 29, 2023) – Republic FC added another point to its strong start to the season with a 1-1 draw on the road against FC Tulsa on Saturday afternoon. After being held scoreless in the first half for just the third time this season, Sacramento traded goals with the Oklahoma club after the break to extend its unbeaten streak to eight matches in league play.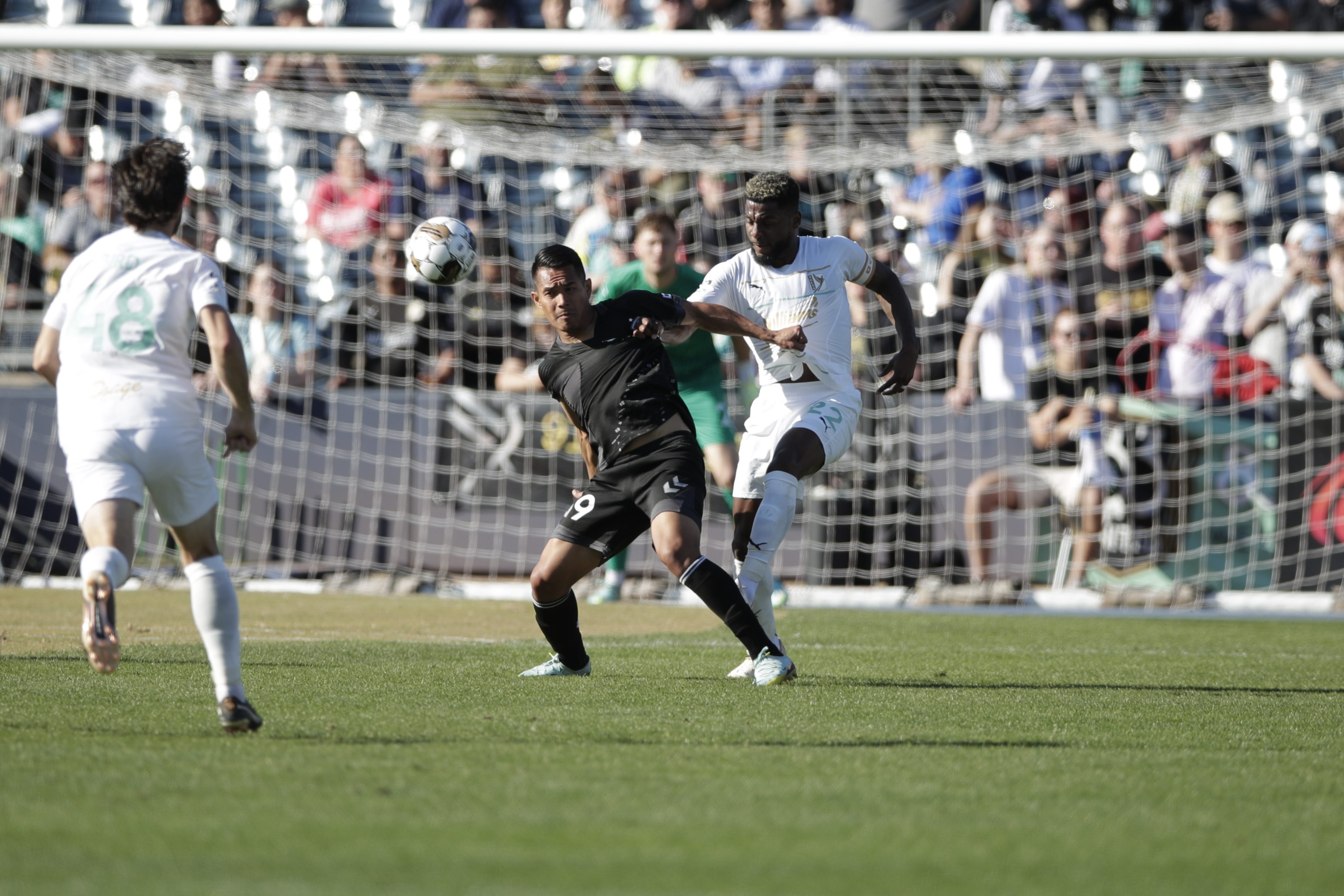 Despite some early opportunities from the hosts, the Indomitable Club kept a first half clean sheet for the seventh game out of eight matches played. Tulsa's most dangerous scoring chances came were created by Rodrigo da Costa. In the twelfth minute, da Costa brought the ball down in the box and found Dario Suarez who looked to put the ball on frame, but a diving deflection from Republic FC defender Shane Wiedt helped goalkeeper Danny Vitiello collect the shot.
Sacramento broke the deadlock in the 54th minute when Sebastian Herrera netted his first score of the season. A ball over the top from Shane Wiedt set up a foot race between the Colombian striker and Tulsa's goalkeeper, with Herrera winning the tackle and opening his account. Wiedt would finish the contest with three clearances and two aerial duels won, and an 87.3% passing accuracy.
Despite Republic FC continuing to put up chances throughout the half, including 15 shots, Tulsa pulled even in the 76th minute when a free kick near the end line deflected into the back of the net — the first goal allowed by Sacramento in 593 minutes dating back to March 18.
The Indomitable Club nearly pulled ahead again in the 80th minute when halftime substitute Russell Cicerone's free kick made its way over the wall before the Tulsa keeper made the save. Minutes later, Rodrigo da Costa put up one last chance for the Oklahoma club, carrying the ball behind the defense before Danny Vitiello came off his line to deny the opportunity.
After a busy schedule to start the season, Republic FC will now get nine days off before hosting MLS side Colorado Rapids in the U.S. Open Cup Round of 32 on Tuesday, May 9. Kickoff from Heart Health Park is set for 7:30 p.m. and tickets will go on sale at 10:00 a.m. this Tuesday, May 2 at SacRepublicFC.com/tickets. 
---
Sacramento Republic FC 1 – 1 FC Tulsa
USL Championship
ONEOK Field – Tulsa, Oklahoma
April 29, 2023 
Scoring Summary: SAC – Sebastian Herrera 53'; TUL – Moses Dyer 76'
Misconduct Summary: SAC – Sebastian Herrera (caution) 34', Zeiko Lewis (caution) 73', Arnold Lopez (caution) 82'; TUL – Bradley Bourgeois (caution) 44', Marcus Epps (caution) 86', Dario Suarez (caution) 90', Milo Yosef (caution) 90'+2
Sacramento Republic FC: Danny Vitiello, Shane Wiedt, Conor Donovan (C), Jared Timmer, Aldair Sanchez, Luis Felipe (Matt LaGrassa 72'), Nick Ross (Zeiko Lewis 45'), Arnold Lopez, Jack Gurr, Sebastian Herrera (Luther Archimede 60'), Keko (Russell Cicerone 45')
Unused substitutes: Carlos Saldaña, Johnny Fenwick, Panzani Ferrety Sousa
FC Tulsa: Michael Nelson, Brett Levis (Moses Dyer 63'), Bradley Bourgeois (C), Ruxi, Rashid Tetteh, Eric Bird (Blaine Ferri 61'), Collin Fernandez, Marcus Epps, Rodrigo da Costa, Milo Yosef, Darío Suárez
Unused Substitutes: Austin Wormell, Justin Malou, Jorge Corrales, Nathan Worth, Angel Bernal