Growing up in Mexico, Nathanio "Nat" Strimpopulos spent countless afternoons playing soccer with his friends. "Soccer was always an integral part of life," he says, "And I came to appreciate the passion and commitment I saw, especially among fans." Today, he brings that energy and spirit into his work as the Creative Director for The Trevor Project, the leading suicide prevention organization for LGBTQ young people.
"My experience growing up trans wasn't the easiest," says Nat. "I knew exactly who I was from a young age. But my parents and I didn't have access to any information that could help us understand what I was going through or seek any kind of gender-affirming care. It really wasn't until my late teens that I started discovering information online. Even then, there weren't a lot of resources, let alone opportunities to connect with others like me. And there weren't many trans people out in society, the media, etc. so it felt very isolating at times."
He spent a lot of time alone as a youngster, often using his creativity as an outlet for self-expression. "I was always an imaginative kid…sketching, building Lego cities, writing stories and songs, playing guitar, etc." His path to creative work grew out of trips to the office with his father, who was an architect. "I spent a lot of time in his office drawing, looking at blueprints, and eventually learning some of the simpler design programs."
Nat, his partner Pearl, and their pups Chico & Hinson
He went on to earn a Bachelor of Fine Arts in Graphic Design at Watkins College of Art, Design & Film in Nashville, Tennessee. During his college years, he learned about hormone replacement but didn't have the resources to pay for it, and it wasn't covered under any health insurance at the time. After graduating, he opened up to his family and circle of friends, and through their love and support, he was able to start gender-affirming care. "By the time I started my first job in design after graduation, I was finally living as myself in society. I was just me," he says.
His first job was with an advertising agency, where he began building his career and portfolio, eventually landing at musician Jack White's record label Third Man Records. As a Design Director with Third Man, Nat worked on a wide range of projects – from album art & packaging to headphones and other merchandise. During his time there, he earned a Grammy nomination along with White for the reissue of Elvis Presley's "My Happiness."
After Third Man he joined a marketing agency where he was able to focus his skills on helping higher education institutions realize and refine their identities. "What I realized was that during that time, I was also refining my personal identity. After a couple of years, I found myself wanting to focus my career on something that felt like it was making a difference in this world," he explained. "I knew that The Trevor Project was a great chance to do good work for something so important as saving young LGBTQ+ young people's lives. It has also allowed me to finally experience a work environment where I can be myself fully and be surrounded by people from many different backgrounds and experiences, including some similar to my own."
While he has enjoyed growing in his career and life as just "just a guy," the collaboration with Republic FC marks the first time that Nat has mentioned being trans to a wider audience. "Although my family, friends, and some co-workers over the years have known I'm trans, I've never been open about it publicly. But so many negative conversations are happening around the LGBTQ+ community lately, especially related to trans people. And I think that having the opportunity to share my story through my designs can show that trans people are no different. We are designers, artists, architects, lawyers, scientists, parents, siblings, human – and everyone deserves to be treated equally."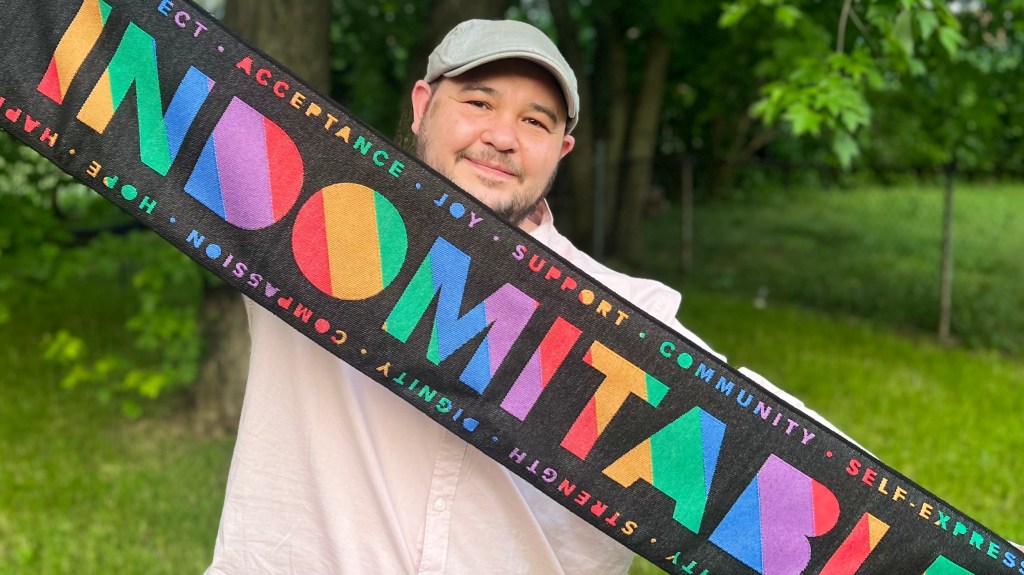 And for the LGBTQ+ young people that Nat and The Trevor Project work tirelessly to support and embrace, opportunities like this "show those who are interested in graphic design, or any type of creative career, that there are people like them in the industry. The more organizations highlight, collaborate with, and support members of the LGBTQ+ community, the more our lived experience will be normalized and accepted in society. The work that Republic FC is doing to support equality helps bring visibility and representation that younger generations of LBGTQ+ people can connect with."