Sacramento, Calif. – On Tuesday, the USL Championship announced that Republic FC midfielder Matt LaGrassa has been named to Team of the Week Bench for Week 24. The Elk Grove native scored the opening goal in the club's 3-1 victory on August 19 vs. Loudoun United FC, helping the club to its fifth straight unbeaten result.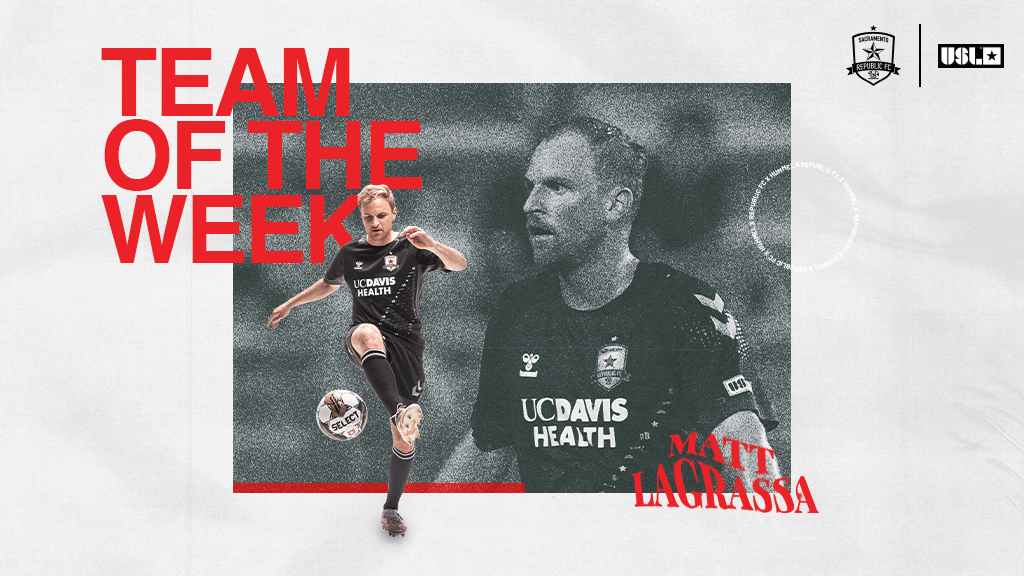 LaGrassa's score in the 35th minute of the match was his first of the 2023 season. As Sacramento challenged the hosts in front of goal, Russell Cicerone saved the ball from going out of play. The forward chipped a perfect cross to the Elk Grove native, who headed the ball at goal. After his initial attempt was saved by the goalkeeper from point blank range, LaGrassa followed up on the rebound to put the ball over the line and put his club up 1-0.
In addition to his score, LaGrassa finished the match with three shots, tied for the club lead, and completed 92% of his passing attempts for the contest. He emerged successful in six of eight one on one duels defensively, keeping a determined Loudoun team from putting pressure on Sacramento in their own half.
The selection is the second of LaGrassa's USL Championship career, and his first since March 2019 while a member of then USL club Nashville SC. It is the 23rd selection of the season for a Republic FC player to the league's weekly top squad.
Republic FC is back in action this Saturday, returning to the site of the club's first-ever home game – Hughes Stadium – for a 10th Season Celebration Match against Orange County SC. Throughout the night, the club will celebrate its proud history and connection to the Sacramento community, while also recognizing and thanking those that have made it all possible – from players and coaches to fans and partners.
Beginning at 5:00 p.m., fans are invited to gather at nearby brewery Track 7 for pre-game festivities – including special appearances from former Republic FC players before joining Tower Bridge Battalion for the March to the Match at 6:30 p.m. Kickoff is set for 7:30 p.m., and limited tickets are still available at SacRepublicFC.com/Hughes. The match will also be broadcast live in English and Spanish on FOX40, FOX40.com and the FOX40 News mobile app, as well as streaming on ESPN+.