Republic FC's connection to the Sacramento community is a huge focus of this Saturday's 10th Season Celebration match at Hughes Stadium. Since the club's inception, Republic FC has led the charge to make Sacramento a better place to work and play, embracing a responsibility to protect one another. Without the community's support, the club could never have reached the point it is at today.
At this weekend's match, the club will celebrate ten years of serving the Sacramento community. Ten organizations will be honored at halftime for their constant efforts to help those that call Sacramento home – including their work with the club over the past ten years. Ahead of the match, take a look back at some of the top moments in the club's community history led by those very organizations.
2016: Republic FC players shave their head for childhood cancer awareness
A staple in midtown every spring, St. Baldricks Head Shaving event is held to raise money for Keaton's Childhood Cancer Alliance and aid organizations leading research and family services for those with pediatric cancer. In 2016, Republic FC goalkeeper Dominik Jakubek, defender Emrah Klimenta, forwards Thommy Stewart, Harry Williams and Mackenzie Pridham joined the festivities, launching the club's yearly involvement in the tremendous cause. Each year since, Republic FC players have joined in to help raise money and awareness, with goalkeeper Carlos Saldaña, Rodrigo Lopez and Head Coach Mark Briggs participating in 2023.
2018: Republic FC, Street Soccer USA team up to Crown a National Champion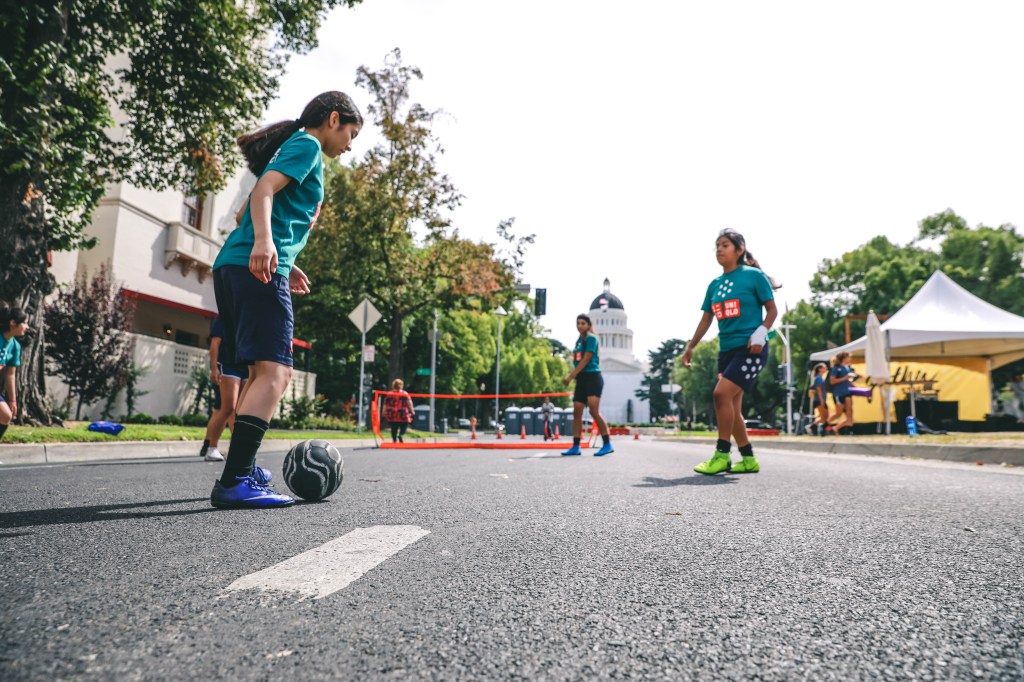 For three days in Old Sacramento, local soccer non-profit Street Soccer USA brought together its 14 sister organizations from across the country for a tournament to share their love for the beautiful game. UC Davis Health and the Republic FC brought their support, as the three organizations joined together to unite Sacramento around soccer, promoting healthy living and building an inclusive community to lift one another up. Each year, Republic FC continues to highlight Street Soccer USA's work, which brings thousands of players to the pitch every year with the goal of helping them overcome challenges in their own lives on the pitch. This past Summer, Republic FC players joined Street Soccer USA's hosting of the Homeless World Cup at Sacramento State University.
2019: Republic FC Opens first futsal court at Maple Park
Football is huge in the Sacramento region – evidenced by the robust youth soccer community that calls the Capital City home. In 2019, the club opened its first futsal court at Maple Park to serve that community in collaboration with La Familia Counseling Center, providing players across the region a safe space to take the pitch in their very own neighborhood no matter where they live. To date, the club has opened 12 futsal courts across the region from Citrus Heights to South Sacramento, to Natomas in partnership with the city, local leaders and community organizations to each serve a unique segment of the population.
2019: Republic FC Honors First Annual Pride Scholar
In 2019, Republic FC extended its community investment to students of the region. Teaming up with its midtown neighbors at the Sacramento LGBT Community Center, the club honored a local student at its annual Pride Night match with a $1,000 scholarship. Sac-State bound Raven Armour was the recipient of the inaugural award, which has been presented to four other students in the season's since including this past June 24.
2021: Republic FC's home drives awareness and action
Ahead of the 2021 season, Republic FC expanded its partnership with community-based non-profit Western Health Advantage to make the club's home at Cal Expo the first venue named to address a global health concern. With the support of the American Heart Association, Heart Health Park has continued to be a community center for action around cardiovascular health – supporting the club's efforts to offer heart-healthy concessions options and train staff, coaches, and players alike on life saving CPR techniques. Since, the AHA has also teamed with the club to provide a platform for local students – who are recognized at halftime on matchdays throughout the season – to raise important funds for cardiovascular health initiatives.
2022: Week of Service makes a daily impact leading to season-opener
To kick off the club's ninth season in 2022, members of the club's staff, players, and supporters took into the community every day of the week leading into the season-opener. The Club's inaugural Week of Service aided community organizations serving all reaches of the region- from veterans at the American Legion in Rio Linda, to kids in P.E. class at Robla Elementary school, to young girls starting their soccer careers with a free all-girls soccer clinic in Land Park. Republic FC players and coaches were trained in CPR as a collaborative effort between the club, partner Medic Ambulance, and the American Heart Association to help further educate Sports professionals on life-saving techniques.
2023: Sacramento's kits make light of important issues
At the start of the 2023 season, Republic FC became a leading organization in mental health advocacy in California as well as nation-wide. As part of a partnership with WellSpace Health, the club's kits displayed a patch with three letters on its sleeve they hope can lead those who need help directly to it. 988 – the number for the National Suicide and Crisis Lifeline providing direct access to assistance for those experiencing a mental health emergency or just need support – became available and aware to every crowd in attendance at a first-team or academy match, viewer watching on TV or streaming, and individual following the club on social media.