Sacramento, Calif. – A historic night in Sacramento would end with a 0-2 result as Republic FC fall to Orange County SC at Hughes Stadium. A pair of second half scores issue the club its first defeat in over a month, capping the club's unbeaten streak at five. Sacramento remains atop the Western Conference standings with 48 points with eight games left to play in the regular season.
A raucous crowd of 20,231 at Hughes Stadium – the site of the club's very first home match in 2014 – made for an unreal environment as Republic FC celebrated its ten seasons in the Indomitable City. The crowd was the largest at a USL Championship match this season and also exceeded the announced attendance at five Major League Soccer contests played on Saturday night.
Sacramento put pressure on their SoCal foes early on. Arnold Lopez took a chance from long distance ten minutes into the match. Jack Gurr tried his luck from outside the box moments later, but his half volley attempt went just a hair wide of the right post. The club was busy inside their foes penalty area, tallying five of their seven first-half shots from inside Orange County's 18-yard box.
Orange County broke the deadlock ten minutes after the break. Forward Thomas Amang put in the game's first score after finding space in the middle of the pitch, slotting a shot inside the right post.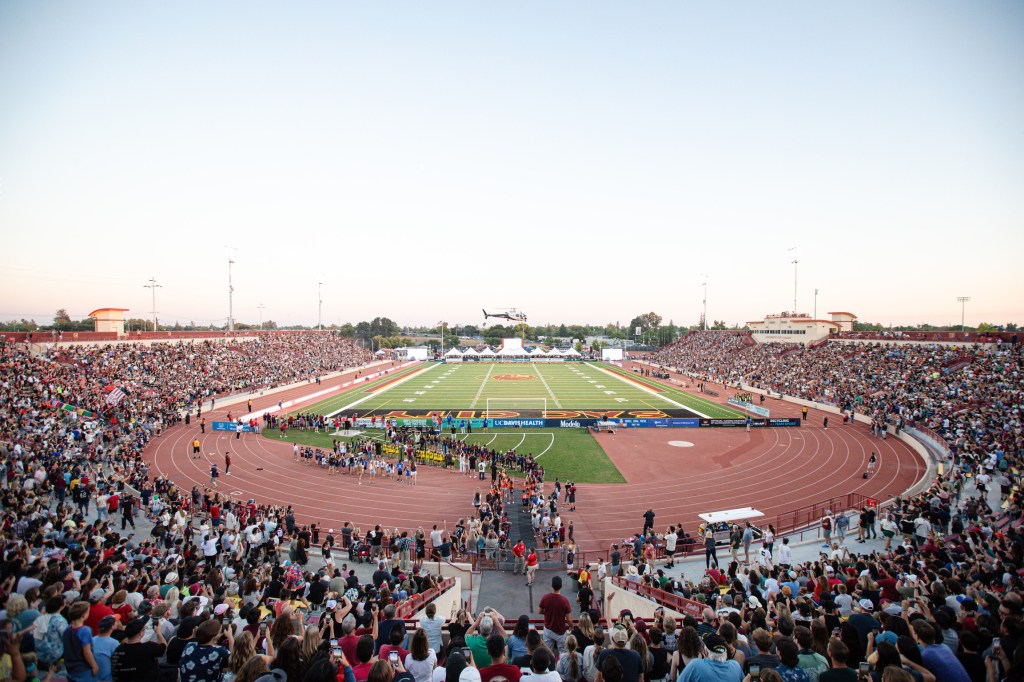 Republic FC answered with pressure of their own. Russell Cicerone sent a high-paced left footed shot at goal two minutes later in the 57th, but it sailed high of the bar. Matt LaGrassa was just a hair late moments afterward in pursuit of a deflected ball at the far post. Keko nearly evened the scoreline in the 79th after recovering the ball in the middle of the park, but the Spaniard's shot went just wide.
The visitors doubled their advantage in the 84th minute. Seth Casiple netted Orange County's second of the match from close range in transition.
The Quails welcomed back two more players from injury late. For the first time since June 24, Sebastian Herrera saw the pitch after recovering from a knee injury. Captain Rodrigo Lopez made his first appearance since April 22 to a loud ovation from all 20,000+, appropriately putting a bow on a historic night.
Republic FC sets back out on the road for the first of two away games this coming Wednesday. Sacramento visits Phoenix Rising FC for the final regular season meeting between the two sides on August 30. Kickoff from Phoenix Rising Stadium is set for 7:30 PM PT, and fans can watch the game in English and Spanish on FOX40.com, the FOX40 News Mobile App, Antenna TV 40.2, and ESPN+. Sacramento plays next at home on Saturday, September 16 when El Paso Locomotive FC visits Heart Health Park.
Sacramento Republic FC 0 – 2 Orange County SC
USL Championship
Hughes Stadium, Sacramento, California
August 26, 2023
Scoring Summary: SAC – None OC – Thomas Amang (Kyle Scott) 55′, Seth Casiple (Marc McNulty) 84′
Misconduct Summary: SAC – None OC – Andrew Fox (caution) 19', Kyle Scott (caution) 84'
Sacramento Republic FC: Danny Vitiello, Lee Desmond (C), Conor Donovan, Jared Timmer, Jack Gurr, Damia Viader (Sebastian Herrera 86'), Matt LaGrassa (Luis Felipe 65'), Arnold Lopez (Rodrigo Lopez 86'), Keko Gontán, Zeiko Lewis (Luther Archimède 65'), Russell Cicerone (Cristian Parano 65')
Unused substitutes: Carlos Saldaña, Shane Wiedt
Stats – Shots: 19, Shots on Goal: 4, Saves: 1, Fouls: 13, Corner Kicks: 6, Offsides: 3
Orange County SC: Juan Santana, Ryan Doghman, Owen Lambe, Markus Nakkim (C), Dillon Powers, Seth Casiple (Ashish Chattha 88'), Brian Iloski (Kevin Lankford 65'), Kevin Partida, Kyle Scott (Andrew Fox 65'), Thomas Amang (Marc McNulty 77'), Bryce Jamison (Cameron Dunbar 77')
Unused Substitutes: Fernando Aguirre, Brent Richards
Stats – Shots: 5, Shots on Goal: 3, Saves: 3, Fouls: 19, Corner Kicks: 1, Offsides: 1