Sacramento, Calif. – Republic FC claimed its second straight victory Saturday night with a last second game-winner to best El Paso Locomotive FC 1-0 in front of a sell-out crowd at Heart Health Park. The victory secures Sacramento a spot in the USL Championship playoffs – the first club in the Western Conference to punch its ticket and the ninth trip to the playoffs in 10 seasons.
With just seconds remaining in second half stoppage time, Luis Felipe headed through a deep cross from Keko over the line for the game winner. The score elevates his career high to six on the season and secured all three points for the Indomitable Club.  
Sacramento controlled the early goings, posting nine shots in the first half to EL Paso's four. A trio of opportunities – one each in the 5th, 23rd, and 39th minutes, by Matt LaGrassa, Sebastian Herrera, and Rodrigo Lopez each generated opportunities. Lopez featured in the starting eleven for the first time since his August 26 return from injury, tallying three chances created before a halftime substitution for Keko.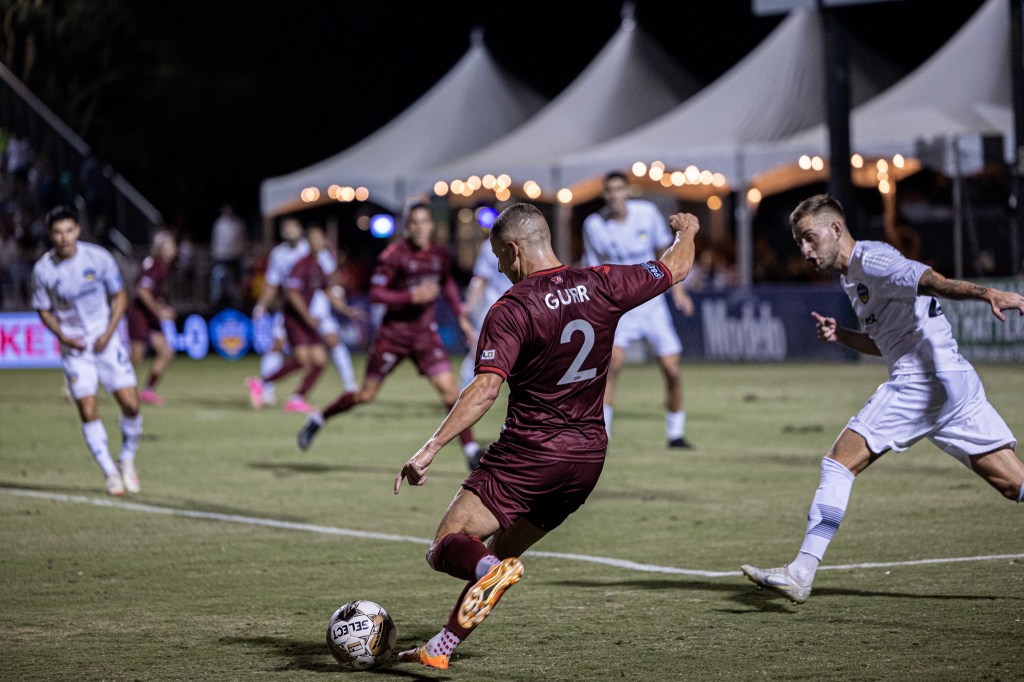 Republic FC continued its high press to start the second half. Just eight minutes after the start of the half, Russell Cicerone was taken down by a pursuing defender for a penalty. Sebastian Herrera's attempt was saved – his first miss from the spot all season – keeping the scoreline even. Sacramento continued its hunt for a score as time ticked down. Cristian Parano nearly opened his Sacramento scoring account in the 74th minute. After driving into the box, his shot was deflected by a defender on its way to goal.
A stout defensive approach in the first half of play for Republic FC got even stronger in the second. Sacramento held El Paso to just 14 entries to the final third in the second half, allowing the club to record its 11th clean sheet this season – and second in a row after its clean sheet on September 2 at Oakland Roots SC. The match also marked a career milestone for Russell Cicerone, who recorded his 200th career professional appearance since starting his playing career with Portland Timbers 2 in 2017.
Republic FC has a quick turnaround to its next match on Wednesday, September 20 against New Mexico United. Kickoff is set for 7:00 p.m. from Heart Health Park, and tickets are still available at SacRepublicFC.com/tickets. Alongside the contest, the club will be honoring those who have made a difference in the lives of Childhood Cancer patients alongside founding partner UC Davis Health.
Sacramento Republic FC 1 – 0 El Paso Locomotive FC
USL Championship
Heart Health Park, Sacramento, California
September 16, 2023
Scoring Summary: SAC – Luis Felipe (Keko Gontán) 90+4' ELP – None
Misconduct Summary: SAC – Shane Wiedt (caution), Jack Gurr (caution) 67' 26' ELP – Miles Lyons (caution) 81'
Sacramento Republic FC: Carlos Saldaña, Shane Wiedt, Conor Donovan, Lee Desmond (C), Jack Gurr (Aldair Sanchez 79'), Jared Timmer, Luis Felipe, Matt LaGrassa (Nick Ross 40'), Rodrigo Lopez (Keko Gontán 45'), Russell Cicerone, Sebastian Herrera (Cristian Parano 62')
Unused substitutes: Danny Vitiello, Johnny Fenwick, Da'vian Kimbrough
Stats – Shots: 17, Shots on Goal: 6, Saves: 3, Fouls: 18, Corner Kicks: 4, Offsides: 1
El Paso Locomotive FC: Benny Diaz, Miles Lyons, Erik McCue, Marc Navarro, Noah Dollenmayer, Liam Rose, Eric Calvillo (C), Denys Kostyshyn (Chris Garcia 77'), Ricardo Zacarias (Emmanuel Sonupe 11'), Petar Petrovic (Nick Hinds 67'), Petur Knudsen (Aaron Gomez 67')
Unused Substitutes: Javier Garcia, Jose Carillo, Louis Herrera
Stats – Shots: 8, Shots on Goal: 3, Saves: 5, Fouls: 13, Corner Kicks: 0, Offsides: 1