Fútbol. It's a word and sport that is an integral part of communities across America and around the globe. It's what brings families, friends, and supporters together – to play, cheer, and celebrate (and in some cases, cry). It's also the central element for Republic FC's latest Hispanic Heritage merchandise collection, Pasión y Orgullo, designed by Rosa Angelica and Antonio Sarabia of Azules Design Studio.
"For us, language holds a special kind of power and meaning," they explained. "To use 'Fútbol' is to recall the countless games we played with our friends when we were kids, the many get-togethers with family as a match played in the background, the joys and tears following our national teams through every World Cup."
Both Rosa Angelica and Antonio come from Mexican roots. Rosa Angelica was born in Los Angeles after her parents migrated to the United States, while Antonio and his family came to Sacramento from Mexico when he was 10 years old. And while their shared heritage is something that is often reflected in their work, the Sarabias approached Pasión y Orgullo from a place of inclusion.
"We wanted to honor the broad diversity of Hispanic and Latino heritage," they said. "Latinos and Hispanos in Sacramento and the U.S. are not a singular group. There are many different cultures, national roots, histories, cuisines, music, and stories that make up the people who might embrace these constantly evolving labels."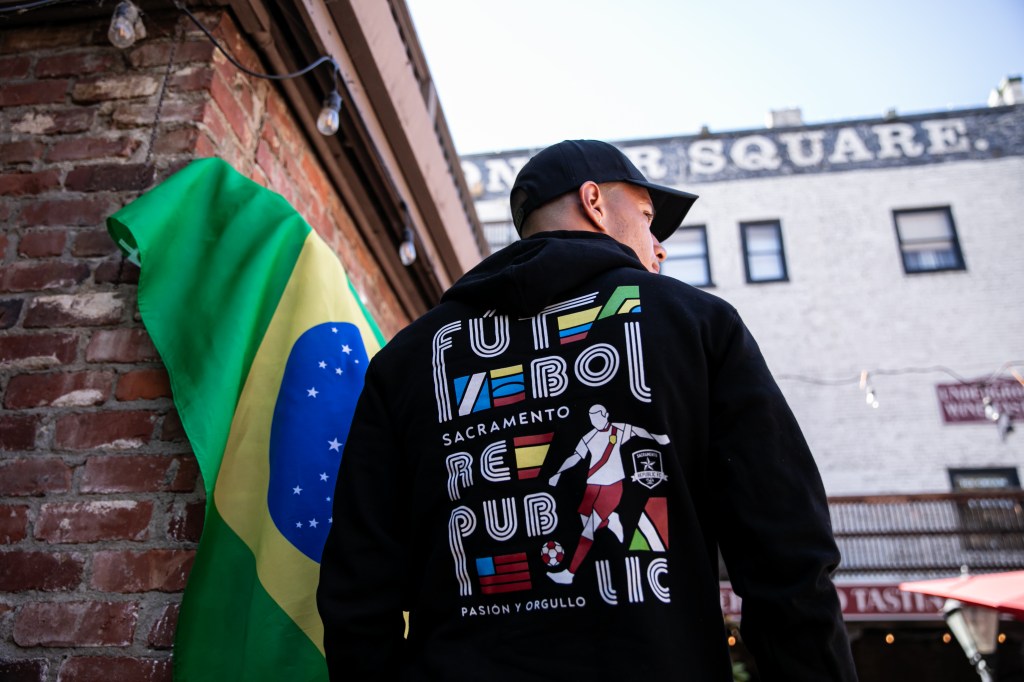 The design features colorful flags representing the nationalities of Republic FC's Hispanic and Latino players – Colombia, Brazil, Mexico, Spain, Nicaragua, Venezuela – as well as the American flag. Using an abstract approach, Rosa Angelica and Antonio created a color scheme that they hope people of any background can connect with. "In the past, it has been the Mexican culture that has been often highlighted and represented, sometimes to the exclusion of other Hispanic and Latino communities," they continued. "Though both our parents are Mexican, and we identify strongly with our Mexican culture, we are a part of a larger Spanish-speaking community and we wanted everyone, regardless of their roots, to feel included."
The Sarabias' passion for storytelling and finding common ground is what drives their creativity. "Stories are what bind communities together. Because we try to create art in the service of the community, we are also storytellers. Through our art, we want to tell stories that celebrate our collective humanity. That is why we always seek to work with people or organizations that strive to uplift others or bring people together to form nurturing and inclusive communities."
Their work can be seen throughout Sacramento and the Bay Area, from the new branding for Pachamama Coffee to posters and graphics for Casa de Español, La Cosecha Restaurant, and numerous festivals and events. On the Latino and Hispanic culture in Sacramento, they explain, "It is as vibrant as it is diverse. We are extremely proud and fortunate to be a part of an extensive community that includes artists, activists, business leaders, athletes, professionals and educators, all of whom have deep ties to their roots and to their cultures, all working relentlessly to make Sacramento a beautiful place for everyone."
That diversity is what Rosa Angelica and Antonio want to celebrate during Hispanic Heritage Month, both through the projects they work on – like Pasión y Orgullo – and those that they highlight and share through their network: "For us, this month is important because it provides an opportunity to emphasize the importance of a diverse society, and to bring more visibility and a larger awareness of the contributions and achievements of Latinos and Hispanos in the United States. Part of that awareness is understanding that different groups of people come from different backgrounds, and will use different words to identify themselves. Identity is always an ongoing conversation."
Learn more about Azules Design Studio at azulesdesign.com or follow them on Instagram (@azulesdesign).