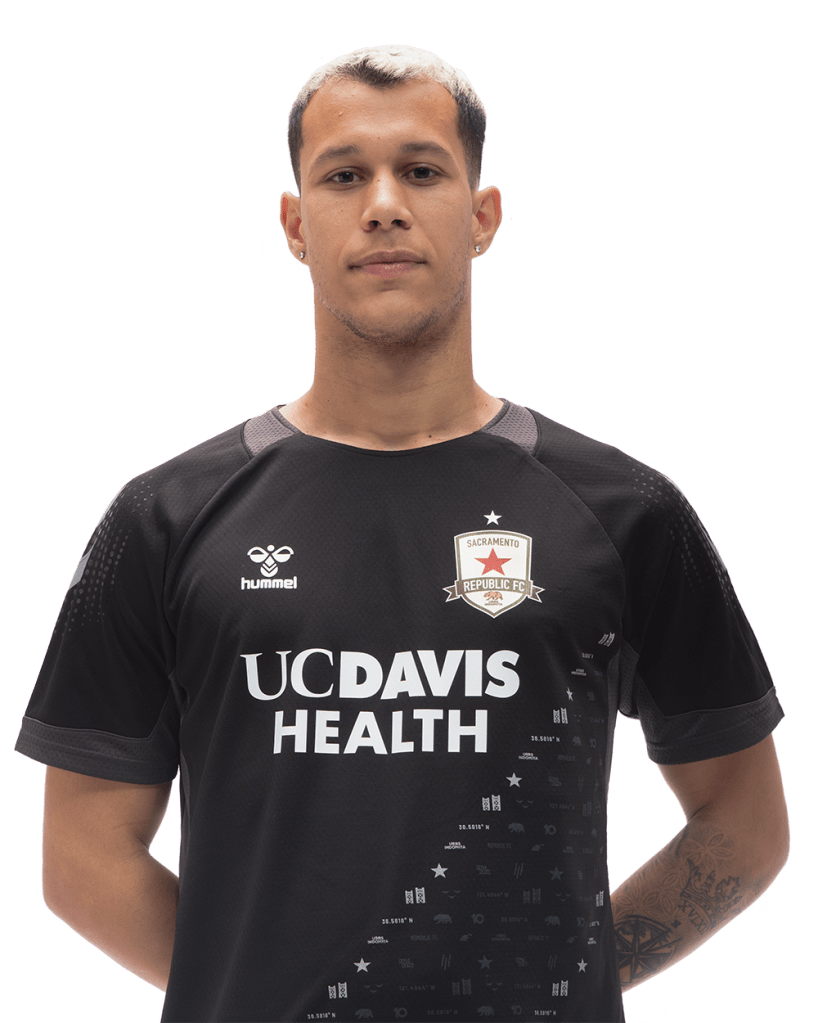 Pronunciation: Feh-LEE-pay
Position: Midfielder
Height: 6-2
Weight: 180 lbs
Born: January 29, 1996
Hometown: Mineola, New York
Nationality: United States
Previous Club: San Jose Earthquakes
2022 Season (Republic FC)
USL: 28 starts in 33 appearances, 2,608 minutes played, 2 goals, 1 assist, 52 interceptions (team-best), 56 tackles won (team-best), 215 duels won (team-best), 1 Team of the Week selection, 1 Goal of the Week win, 1 Goal of the Month win
U.S. Open Cup: 6 starts in 6 appearances, 3 goals (game-winners in 3 consecutive matches), converted his penalty in Semifinal shootout against Sporting Kansas City
Career Bio
The 26-year-old midfielder first joined Republic FC ahead of the 2021 season. In his two seasons with the Indomitable Club, Luis Felipe has led the team across several stat categories in league play, including successful tackles, duels won, and interceptions. He also eclipsed 2,000 minutes both years, leading the team in appearances (33) and minutes played (2,608) in 2022. On the offensive end, he added seven goals and four assists and maintained a 78% passing accuracy.
His play not only made him one of the team's most consistent players, but also earned him praise across the league and among his teammates and coaches. Over both seasons, he earned five selections to the USL Championship Team of the Week, won the three fan votes for Goal of the Week distinctions, and took home Goal of the Month honors twice. In 2021, he was named Republic FC's Team MVP and Defensive MVP, and was awarded the team-voted Play of the Year.
Prior to joining Sacramento, Luis Felipe spent three seasons with MLS side San Jose Earthquakes, where appeared in 21 matches and logged 1,210 minutes. In his MLS debut season in 2018, he started 11 of the 15 matches he was available for selection.
Before joining San Jose, he competed in USL Championship with Reno 1868 FC in its inaugural 2017 season. Luis Felipe contributed five goals in a USL record-breaking campaign (75 goals in a season), and was integral in managing possession and tempo by completing 85.2 percent of his passes in 40 appearances (1,192 of 1,399) while also recording 65 interceptions and 16 chances created. In his typical defensive midfield role, he added to a staunch defense that finished the season 10th, with only 40 goals conceded.
Luis Felipe made his professional debut in 2016 with the Fort Lauderdale Strikers of the NASL, where he led the team in minutes played and was nominated for NASL Young Player of the Year. The New York-born, Brazilian-raised midfielder developed his skills as a youth player in the storied Brazilian Cruzeiro Esporte Clube academy in Belo Horizonte. In 2014, he was called into the U.S. U-20 National Team January camp under head coach Tab Ramos.