Today, Sacramento Republic FC announced that the club has reached an agreement with forward Douglas Martinez Jr., pending league and federation approval. He will be added to Republic FC's 2022 roster pending receipt of his P-1 Visa and ITC. Per club policy, the terms of the contract were not disclosed.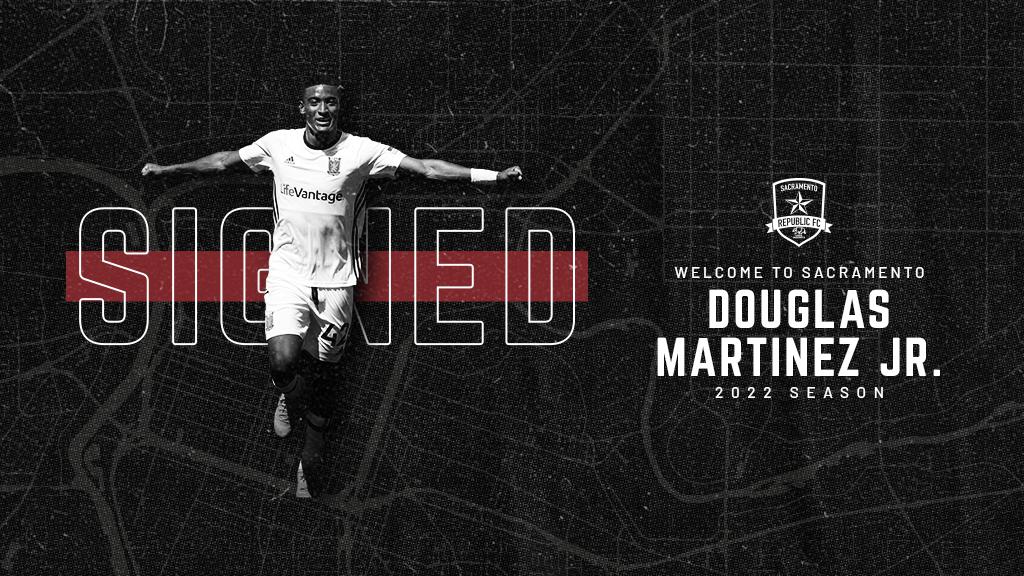 "Douglas is a game-changer who has all the tools along with a championship pedigree," said Republic FC President and General Manager Todd Dunivant. "He provides a new dimension to our attack with his physical attributes and scoring prowess. His proven track record of success in USL, MLS and on the international stage will be a welcome addition to our club."
Martinez joins Republic FC following three seasons with Real Salt Lake, where he appeared for both the USL Championship and MLS sides, as well as a brief loan in 2021 to San Diego Loyal SC. He debuted for Real Monarchs SLC in 2019, scoring a team-best 17 goals and adding seven assists, while also logging over 2,000 minutes and starting in each of his 25 appearances – resulting in a goal every 109 minutes. He was called up to the club's MLS side midway through the season, where he made one appearance before rejoining Monarchs for their playoff run that ended with a USL Championship title. In addition to the team's championship title, Martinez earned several individual honors in 2019 – including one Goal of the Week nomination, three consecutive Team of the Week selections, and one Player of the Week crown. He was also a finalist for the league's Young Player of the Year award.
The Honduran international returned to RSL for the 2020 season. He made 19 appearances and scored three goals – one of which came in the MLS is Back Tournament Round of 16. Martinez started the 2021 season with RSL, making six appearances before returning to Monarchs. In seven appearances with the USL Championship side, he scored two goals and added two assists. In August, he joined San Diego Loyal SC on loan for the remainder of the season, where he scored two goals in 11 appearances.
The forward made his professional debut in his home country for CDS Vida in 2013 at just 16 years of age. In 2016, Martinez trialed for New York Red Bulls II before signing with the club on loan, eventually making the move to USL in 2017. He appeared 16 times and scored one goal for the New York club.
In addition to his club career, Martinez also has featured at the international level for Honduras at both the youth and senior levels. In 2017, he earned his first call-up to the Honduran U-20 team at the CONCACAF U-20 Championship during their second-place finish. He also added one goal at the 2017 FIFA U-20 World Cup. He later joined the U-23 team, where he scored two goals and won the silver medal in the 2019 Pan American Games. That same year, he earned a spot on the senior national team for the CONCACAF Nations League, where he made three appearances and added one goal. In 2021, he was named to the roster for the 2020/21 Tokyo Olympics, where he started all three matches in group play.