Tuesday was a night to remember for Republic FC, as the club took down MLS side LA Galaxy in a win-or-go-home quarterfinal match in the U.S. Open Cup. Behind raucous fan support on the road, Sacramento held the storied SoCal side in check and kept their composure as well as any team in any competition.
Set the Tone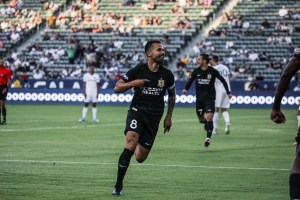 Coming into the match, it was clear each side had a script for how they thought things would go. Sacramento stuck to their guns, relying on the club's brick wall of a defense and prowess on the wings, while LA put its efforts into dismantling the visitors' structure in the middle. Quickly, Sacramento's approach emerged supreme. The club's 4th minute score – Rodrigo Lopez's fourth time finding net, leaving him tied for the tournament lead – came as a result of great vision on the right from Jack Gurr to push out and create an outlet for Dan Casey driving out of the back, and a poetic touch on the ball from Keko to Douglas Martinez created a sudden numbers advantage for the Quails. As Lopez's attempt rocketed past Jonathan Klinsmann, the home crowd expecting an easy win over a lower-division foe got a hit of reality that Sacramento was going to make this a game.
Hold Down the Fort
While Republic FC's defense was stellar, the club's approach to the match had them absorbing a lot of pressure. Both LA's collective attack in the first half and constant service into the box in the second gave Dan Casey, Conor Donovan, and Lee Desmond plenty to contend with as the contest wore on.
Knowing that one mistake could change the game, not one Sacramento player lost their focus, hunkering down to keep LA out of open space and sending away nearly every ball they served in. A trio of great plays by Danny Vitiello sent away threats in from the wings as time ticked down and heart rates rose in stoppage time, with the game almost exclusively in Sacramento's defensive half.
Road Support
Despite a 400-mile journey and the challenge of fighting a loud, rowdy home supporters section, Republic FC fans stepped up in a big way in Carson. Fans, families, and members of Tower Bridge Battalion swarmed Section 103 at Dignity Health Sports Park and made their presence known, giving an extra jolt to Sacramento as they battled a hostile environment and fought to maintain control of the game. After the match, the squad joined the contingent of travelers celebrating in the stands chanting for their club.
"The fans [Tuesday] were electric. From the first minute to the 95th minute, they never stopped signing they never stopped helping us," said Head Coach Mark Briggs following the match. "…those fans pulled us through the last few minutes and I can't speak highly enough of what they brought and the environment they created."