Sacramento, Calif. – Today, Republic FC Owner and Chairman Kevin Nagle announced a new vision for a Railyards Stadium to create a community asset that will help Sacramento accelerate its recovery from the pandemic and provide a new downtown home for sports and entertainment. As part of today's announcement, the club released a preliminary rendering of the new stadium concept.
"We want to build a world-class soccer stadium in The Railyards, and to begin the next decade of Republic FC," said Republic FC Owner and CEO Kevin Nagle. "We're ready with a new vision that allows us to take our destiny into our own hands, and to create a community asset that will grow with the team and city."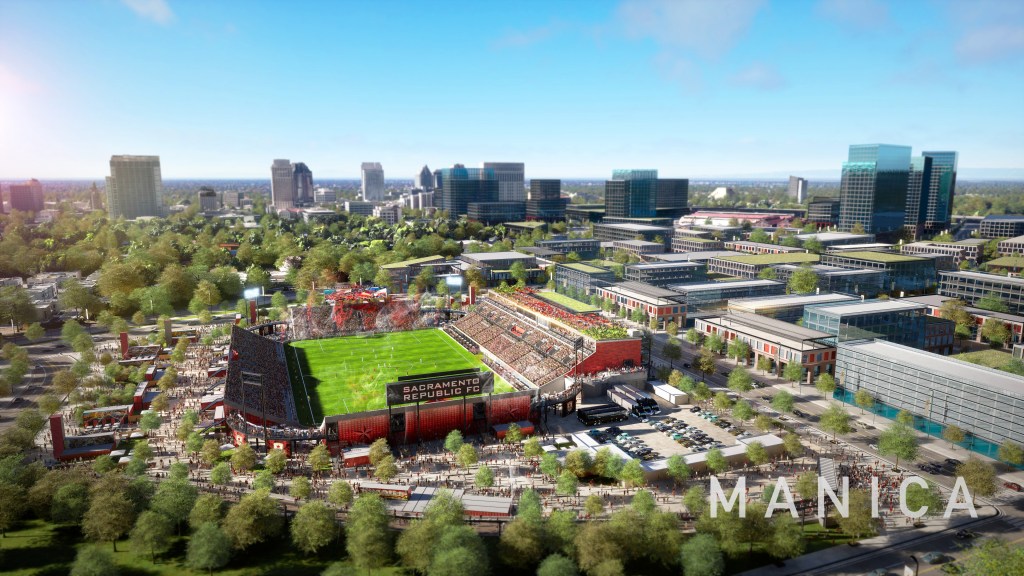 During 2021, as the club continued to pursue investors for an MLS expansion club, Kevin Nagle recognized the region's need to help jumpstart a recovery from the effects of the pandemic with a new community asset – and began exploring ways to build upon the agreements made for an MLS expansion club and bring a soccer-specific stadium to life in Downtown Sacramento.
The new vision for a world-class facility will:
Build a 12,000-15,000 seat Downtown facility that will serve as a community asset, meeting the needs of the city, league and community on an accelerated timeline,
Expand the city's sports and entertainment calendar with potential events like,

marquee soccer matches with international competitions and global clubs,
a diverse array of sporting events – rugby, lacrosse, college sports and more,
outdoor concerts, festivals and shows.

Be able to transform with the city, team, and league and expand up to 20,000+ seats due to a futureproof plan,
Once again spark an era of growth by creating more opportunities to showcase Sacramento and bring people Downtown.
The club has engaged industry leaders MANICA Architecture and Machete Group, who have designed and managed showcase projects – including Allegiant Stadium, Chase Center, and TQL Stadium – to craft an initial concept that can meet the goals of the club and city.
"I'm grateful to Kevin Nagle for his partnership and his commitment to Sacramento. As a city, we are open to pursuing dual tracks," said Mayor Darrell Steinberg. "We continue to identify and work with potential Major League Soccer investors, and at the same time we're ready to work together on an adaptable stadium in the railyards. It's not one or the other."
Railyards Stadium will anchor an investment nearing $1 billion dollars that will accelerate development throughout The Railyards – invigorating the 242-acre district which has sat dormant for over 50 years. Beyond the stadium, the team will lead mixed-use, housing and retail development projects – all of which will help double the size of Downtown and create a hub of activity for the region.
"Sacramento is an incredible market for soccer, and we're excited to see how Republic FC can continue to impact the community with a world-class stadium," said USL President Jake Edwards. "The USL is in an exciting phase of strategic growth, and visionary development projects like the one Republic FC and the city of Sacramento are undertaking will elevate the game for fans and players in the United States for years to come."
With a new facility, Republic FC can continue to be a vanguard club in the USL as the organization accelerates its growth in the lead-up to the 2026 FIFA World Cup being hosted in the United States, Canada, and Mexico. The USL is the fastest-growing soccer league property in the world. The USL Championship will expand to 36 clubs by 2026. Eleven USL venues have been constructed since 2013, with plans to develop more than 30 more in the next four years. The USL is also playing a leading role in the growth of women's soccer in the United States by launching the USL W League, an elite pre-professional league with 44 clubs, this year, and launching the USL Super League, a new fully professional league, in 2023.
As the club's plan to build Railyards Stadium progress, the team will unveil new elements of the venue, host fans and community members for town halls to help create an unmatched fan experience, and share more on how it will develop the district around the facility.
For updates about Railyards Stadium, visit SacRepublicFC.com/RailyardsStadium. 
Stay up to date on the latest news about our new Indomitable Home.