Sacramento, Calif. (June 4, 2022) – Republic FC upended the USL Championship's top squad on Saturday night, recording a 1-0 result over San Antonio FC at Heart Health Park to stay unbeaten at home. The night marked a special occasion to a beloved member of the community.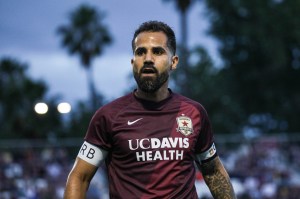 During the match, the club also saluted Sacramento sports legend Randy Brink, who passed away last weekend. Since the club's inaugural season, Randy had served the club in a variety of roles, most notably as the club's Senior Director of Pitch. Randy had held positions serving every Sacramento sports team since the 1980's – and for his service, and unrelenting positivity and ambassadorship of the club and the city, the club's players each wore a white armband donning his initials.
Republic FC dominated the match, but a set piece score just before the break, paired with more excellent defending would secure the win on the night. Sacramento made the most of their chances and remained difficult to break down for the entire match, allowing just five chances and only one shot on frame for the visitors.
Both squads were incredibly patient in the early goings, with Sacramento posting just four shots and excellent one-on-one defending keeping the visitors from challenging Danny Vitiello in goal even once. The Indomitable Club found their footing as the match went on, taking control of the midfield and dominating play on the wings. For the match, Sacramento serviced 23 crosses, eight of which came off the foot of Rodrigo Lopez.
Sacramento's captain provided the club its best chances just before the half. After finding space ahead of the penalty area, the midfielder let loose a shot from distance, but an excellent diving save from Jordan Farr in goal kept the match scoreless. Sacramento took the lead on the ensuing corner kick to take a 1-0 advantage, when Douglas Martinez headed one through off a Keko cross – his 25th career goal in USL Championship competition.
The score gave Sacramento a jolt heading to the second half, and the club nearly doubled their lead just before the break. Luis Felipe intercepted an errant San Antonio pass up high, and found himself off to the races with visiting defenders. Moving forward with numbers, the midfielder dished the ball off to Rodrigo Lopez, who made one more pass to Douglas Martinez who rocketed in a shot just wide right.
Following the win, Republic FC will hit the road to face off with USL newcomer Detroit City FC in the two club's first ever meeting on June 11. Kickoff from the Motor City is set for 4:30PM and the match will be broadcast live on Antenna TV 40.2, FOX40.com and the FOX40 App, and streaming on ESPN+.
Sacramento Republic 1 – 0 San Antonio FC
USL Championship
Heart Health Park, Sacramento, California
June 4, 2022
Scoring Summary: SAC–Douglas Martinez (Keko Gontan) 37', SA – None
Misconduct Summary: SAC–Luis Felipe (caution) 45+1', Rodrigo Lopez(caution) 73' SA – Fabien Garcia (caution) 20', PC (catution) 42', Deshane Beckford (caution) 45+2', Fabien Garcia (second caution, ejection) 90'
Sacramento Republic FC: Danny Vitiello, Lee Desmond, Conor Donovan, Dan Casey, DamiaViader, Jack Gurr, Rodrigo Lopez (C), Luis Felipe, Matt LaGrassa (Emil Cuello 79'), Keko Gontan (Luther Archimede 79'), Douglas Martinez (Zeiko Lewis 90+4')
Unused substitutes: Carlos Saldana, Ferrety Sousa, , Nick Ross, Rafa Jauregui
Stats – Shots: 11, Shots on Goal: 5, Saves: 1, Fouls: 15, Corner Kicks: 6, Offsides: 0
San Antonio FC: Jordan Farr, Mitch Taintor (C), JasserKhmiri, Fabien Garcia, Diedie Traore (Jordy Delem 64'), Deshane Beckford (David Loera 45'), PC (Nicky Hernandez 87'), Mohammed Abu, Connor Maloney, Justin Dhillon, Elliott Collier
Unused substitutes: Matt Cardone, Jordan Ayimbila, Ignacio Bailone
Stats – Shots: 11, Shots on Goal: 1, Saves: 4, Fouls: 13, Corner Kicks: 4, Offsides: 4