With eyes on another cupset, Republic FC takes to Carson, CA for the U.S. Open Cup Quarterfinal against LA Galaxy. Confidence is high as Sacramento looks to continue their run of excellent form, and take advantage of another opportunity to make club history.
The club's readied for the match just as they would any other game. Yes, it's one against possibly the most storied club in Major League Soccer boasting a bevy of national-teamers and a few designated players. But at its core, it's a game, one Republic FC knows they can be competitive in if they expect to be.
"We've got to go there with belief. You've got to have courage. Because if you go there and you fade, you don't trust yourself and you don't believe in yourself, it'll become a hard night," said Head Coach Mark Briggs on Monday.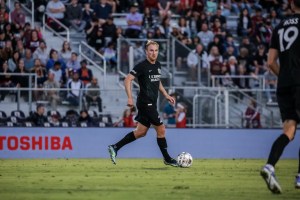 "I think we're all looking forward to it," said Matt LaGrassa. "The boys are ready, we're in a good headspace, and we're ready to go down there and leave everything we have out there."
There's a degree to which Tuesday's task may be a bit daunting, for good reason. To combat that, the club's taking their mindset very seriously so they can stay focused, play their game, and perform as they have been even on a stage the club's never seen before.
"It's 11 men against 11 men, on a grass field," Briggs continued. We've got to prepare like any other game."
"It doesn't matter who we play," said Rodrigo Lopez. "Advancing to the semifinals in a tournament like the open cup is special. We're ready, no matter who it is."
On Sacramento's side is their momentum from Saturday, which saw the club log another clean sheet win even with a few changes to the lineup. The win showcased their depth, which will likely have a bearing on the result from Dignity Health Sports Park. Their ability to get results with anyone on the pitch makes them as confident as any other team.
"Every season has ups and downs, and waves of momentum," LaGrassa continued. "We're riding a good one right now. That's right where we want to be going into a huge matchup."