To close out what may be the toughest two weeks of the season so far, Republic FC returns home for a league match at Heart Health Park. Rio Grande Valley FC will line up opposite the Indomitable Club, ready to feed off the energy of a home crowd for the first time since last week's Open Cup semifinal match.
On the heels of two big road wins where the club claimed points in tough environments, Sacramento's looking to keep their momentum and continue their climb in the Western Conference table. Their foe coming to town won't make things easy – the Toros are sure to play hard as they look to reverse a recent skid, and will be highly motivated against a Sacramento team they defeated at the death in their last meeting. However, Sacramento's been aware of what's coming all week long.
"It's a massive game for us. It's been a grueling two weeks with a lot of games in a short amount of time," said Mark Briggs Friday. "So we've got to be as fresh as we can be and make sure the players that step on the field understand the importance of what we're trying to do and win."
The whole squad is thrilled to be back on their home turf – Saturday's match marks the club's first at Heart Health Park in league play in three weeks. They know how much the home fans help their performance and give them important energy on the field, and can't wait to get back in front of them.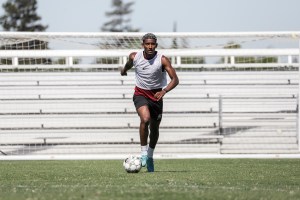 "[We're] happy to be back – it's been a magical week for this team," said Douglas Martinez. "…We hope to keep winning and bring these amazing people [in Sacramento] more wins."
"We're excited to be back home," said Conor Donovan. "The fans here are incredible and they help us pull out energy into the game. RGV's a tough game."
The tough stretch behind the club has shown a lot about the team – the club's used 24 different players, traveled nearly 8,000 miles round trip, and still pulled out two wins in the last seven days. That kind of adversity will often result in at least one tough night for most clubs, but for Sacramento, it's made them stronger and brought to light what makes them a unique group of players and personalities.
"It shows the attitude, togetherness, and quality of the group," said Mark Briggs on the club's success during the busy stretch. "We've utilized the whole roster and still managed to get points, which is what it's all about. But we've got to continue working hard on a daily basis."
"The team's getting more comfortable, more confidence as a family and as a group," said Martinez continued. "That's one thing we're doing well – family. We're family and we talk like members of a family and it gives us a lot of confidence and trust."