Academy Contracts provide talented youth players first-team opportunity while maintaining college eligibility
Becomes the 34th player signed to an Academy Contract, fourth this season
Scored the game-winner for Sacramento's U-17's against top-ranked Philadelphia Union on May 14, securing his team a berth in the MLS NEXT Cup Playoffs
Sacramento, Calif. – Earlier today, Sacramento Republic FC announced the addition of another local player to the club's roster. Forward Ezekiel "Zeke" Padilla has signed a USL Academy Contract, making him eligible to join Republic FC's first-team roster for training and matches. Padilla is a member of Republic FC's U-17 Academy squad.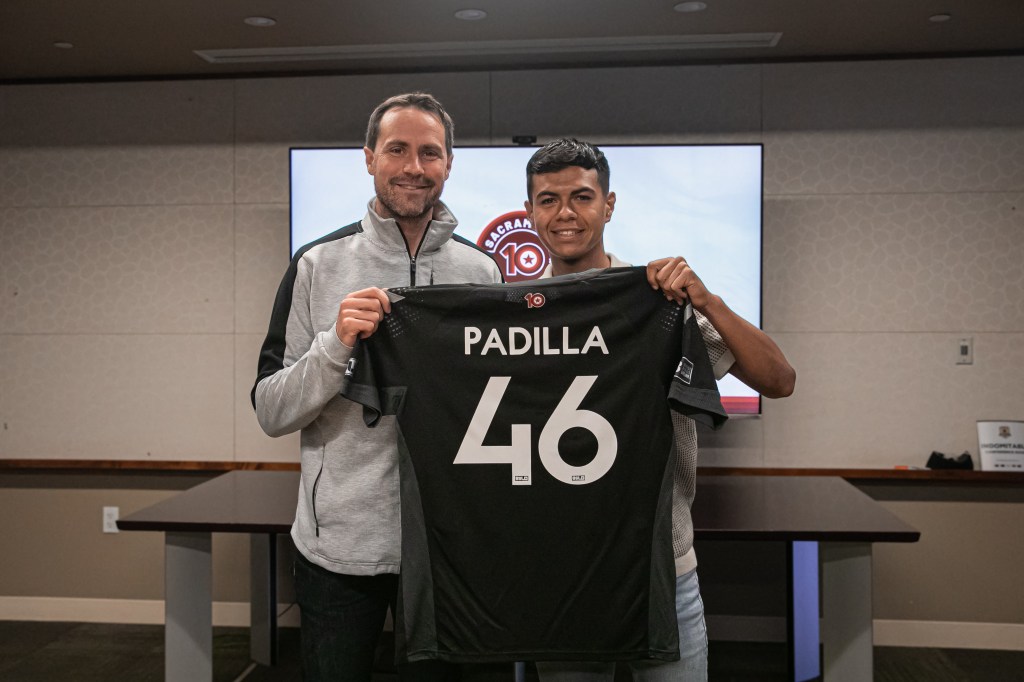 "The quality of our youth development academy continues to shine and produce players with first-team pedigree," said Republic FC President and General Manager Todd Dunivant. "Zeke impressed the players and staff this season at multiple first team training sessions, and his massive goal to advance the club to the MLS Next Playoffs was a just reward for his hard work."
"Zeke has performed at a high level in the short time he's been with us this season and earned this opportunity," said Republic FC Academy Director Eder Quintanilla. "He is the latest example of the tremendous work our players put in to prepare themselves for the professional ranks."
A native of Livingston, California, Padilla joined Sacramento's academy in January after previously playing with local clubs Impact SC and Modesto Ajax. This season, he has featured in nine games for Republic FC's U-17 squad in league play, scoring three times and logging just over 400 minutes. He becomes the fourth player from the club's youth system to sign an academy contract this year, joining academy teammates Ethan Kelly, Blake Willey, and Ermias Yohannes, and is the 34th since the Academy's inception in 2015.
Earlier this month, Padilla and Republic FC's Academy U-17's qualified for the 2023 MLS NEXT Cup Playoffs in June, giving the squad an opportunity to play in the national championship of North America's top youth division. The club has featured three teams that advanced to the national semifinals in the past two seasons of the tournament – the only club to do so nationwide. The forward scored the game winner for his club against Philadelphia Union on May 14 to secure his squad the top spot in their group at the MLS NEXT Flex tournament. It marks the third consecutive season Sacramento's U-17s have earned a postseason berth and a chance at silverware on the national stage.
Republic FC's Academy offers the region's only youth-to-pro pathway, where players can rise through the ranks and earn opportunities with the club's professional squad. Since its inception in 2015, Republic FC's Academy has created a pipeline of youth players earning first-team opportunities on a USL Academy Contract. 20 have signed professional contracts with Republic FC or other clubs. In 2022, Academy players logged nearly 1,000 first-team minutes and were selected to the club's matchday roster 49 times in USL Championship and U.S. Open Cup matches.
Pending league and federation approval, Padilla will be available for selection in the club's match this Friday, May 26 at Eastern Conference club Hartford Athletic. Kickoff from Trinity Heath Stadium is set for 4:30 p.m. PT, and the match will be broadcast live in English and Spanish on Antenna TV 40.2, FOX40.com and the FOX40 News mobile app, and streaming on ESPN+. The Indomitable Club returns home to Heart Health Park on Saturday, June 17 against Monterey Bay F.C.