Club will host free watch party at Le Five Indoor Soccer in Rancho Cordova for USWNT's game on Friday, July 21
Fans with a match ticket for Republic FC's game on July 26 can arrive early to watch USA vs. Netherlands
Republic FC and partners to hold sports bra collection drive benefiting Girls on the Run to eliminate a barrier to sports participation for many girls and teens
Sacramento, Calif. – Today, Republic FC announced the club's programming for the 2023 Women's World Cup, celebrating the world's best athletes on the biggest global stage, while also supporting young female athletes in the Sacramento region. The club will team up with Le Five Indoor Soccer in Rancho Cordova to host a free watch party when USA takes on Vietnam on Friday, July 21. The event will also mark the start of a month-long community initiative to collect sports bras for girls and teens that are gaining confidence and empowerment through sports.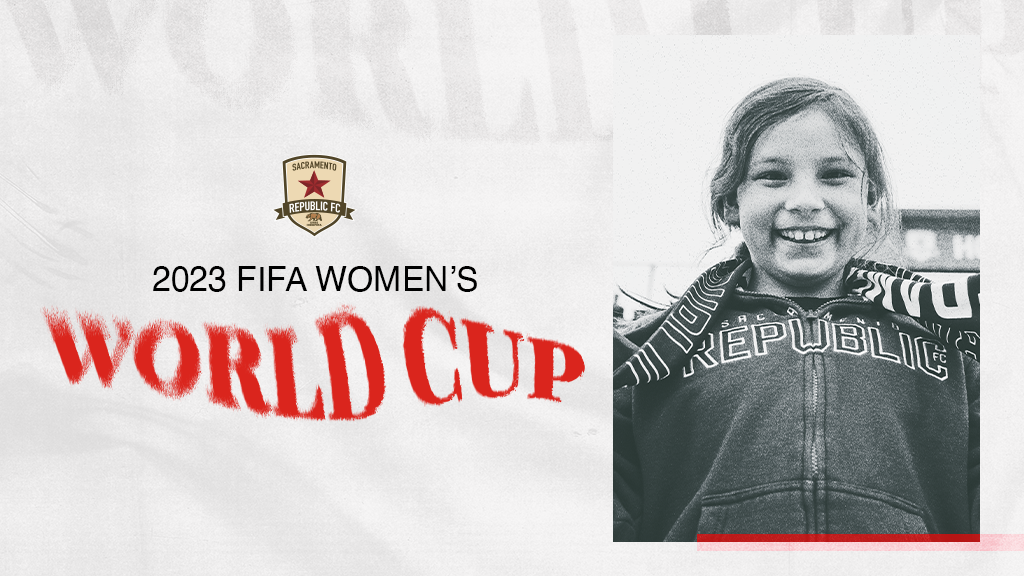 "The Women's World Cup is an exciting time that brings together people from all backgrounds and ethnicities – from lifelong soccer fans to first-time sports viewers," said Republic FC Executive Vice President of Business Operations Ashley Horsley. "We're looking forward to providing ways for the community to celebrate, while also doing some good by giving back and making it easier for girls and teens to participate in sports."
Beginning at 5:30 p.m. on Friday, July 21, fans can gather at Le Five's Rancho Cordova location (11115 Folsom Blvd STE 200, Rancho Cordova, CA 95670) to hang out with Republic FC's Cap City Crew and team captain Rodrigo Lopez. Youth indoor games will be kicking off throughout the night, creating an environment that directly connects the next generation of soccer superstars with the biggest tournament in the world. Pick-up spots are available on a first-come, first-service basis and must be purchased online at LeFive.us.
In addition to a food truck that will be on-site, fans can purchase drinks at Le Five's sports bar. There will be plenty of opportunities for attendees to win fun prizes, including tickets to a Republic FC match, team gear, and more. Kickoff for the match is set for 6:00 p.m. PT and fans are encouraged to RSVP at SacRepublicFC.com/WorldCup.
"There's no better way to highlight the sport that we all love than by working alongside the Republic FC to host this community watch party," said Le Five Chief Operating Officer Edward Ocampo. "It's a great opportunity to bring the soccer community together and cheer on our national team. By the end of the event, we aim to show everyone that Le Five is a place for them to call home. We look forward to meeting everyone all on game day!"
The following Wednesday, July 26, before Republic FC on Phoenix Rising FC at 8:00 p.m. at Heart Health Park, fans can catch all the action for the USA vs. Netherlands game on a giant video wall in the marketplace. Gates will open at 6:00 p.m. and just one ticket gets you in for both games, as well as the California State Fair. Tickets are available now at SacRepublicFC.com/Tickets.
Additional viewing opportunities for later rounds will be announced following the group stage.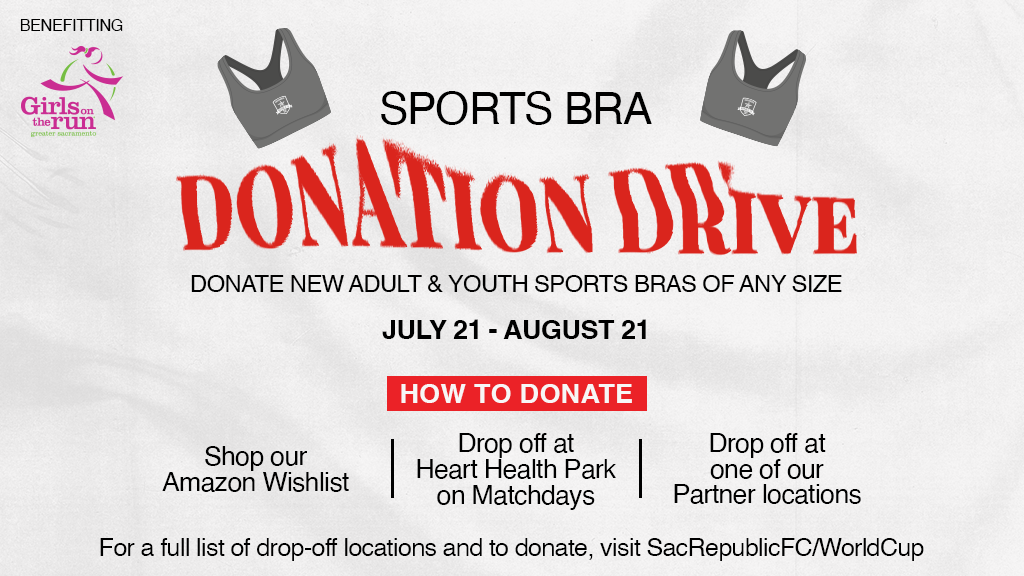 Throughout the tournament, Republic FC will partner with Le Five, Restore Hyper Wellness, G6 Performance Training, and Saha Float Spa to collect new sports bras for young girls and women in sports. Beginning July 21 and running through August 20, fans and community members can drop off donations at various locations around the region or "give with a click" by shopping from a curated Amazon Wishlist that will deliver donations directly to the club's front office. For a full list of drop off locations, visit SacRepublicFC.com/WorldCup.
All donations will be given to Girls on the Run Greater Sacramento (GOTR Sac), an organization providing programs that inspire girls of all abilities to strengthen confidence and other important life skills through dynamic, interactive lessons and physical activity.
"Every girl deserves access to sports, and lack of a sports bra is an unexpected barrier for girls to join physical activity programs," said GOTR Sac Executive Director Stephanie Tseu. "The Women's World Cup is a thrilling time for people all over the world, but especially for young girls, and we're grateful to team up with Republic FC to support so many girls in our organization."
For more information on Republic FC's Women's World Cup activations, visit SacRepublicFC.com/WorldCup.
Republic FC returns to league play this Saturday, hosting Rio Grande Valley FC Toros on Salute to Service Night presented by FOX40. Tickets are available at SacRepublicFC.com/tickets. Current and former military members can access discounted tickets to the match at GovX.com. Kickoff is set for 8:00 p.m. and the match will be broadcast live in English and Spanish on FOX40, FOX40.com, and the FOX40 News mobile app, as well as streaming on ESPN+.