Sacramento, Calif. – Today, Republic FC announced the club is teaming up with Track 7 Brewing Company to kick off matchday festivities for Sacramento's largest sporting event of the summer. Ahead of the club's 10th Season Celebration at Hughes Stadium on August 26, fans are invited to gather at Track 7's Curtis Park taproom to grab a pint before marching over to the stadium for a special pre-match presentation.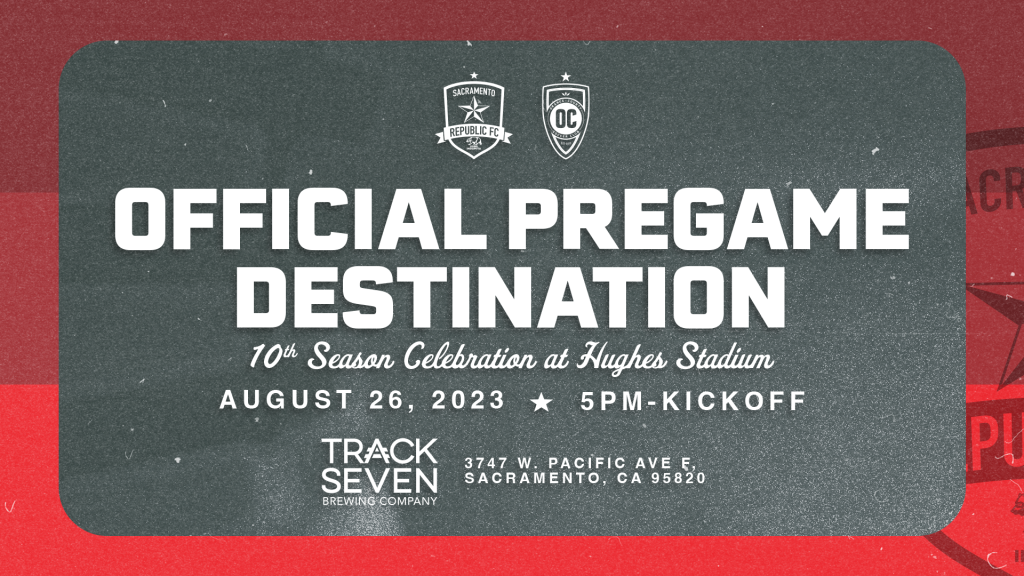 "Our 10th Season Celebration on August 26 is going to be the biggest sporting event of the summer and we're excited to bring everyone back to where Sacramento's love affair with Republic FC began," said Republic FC Chief Revenue Officer Dustin Vicari. "In 2014, hundreds of supporters marched from Track 7 to Hughes Stadium, showcasing the energy and passion that continues to surround this club on and off the field. Whether you're looking for a bit of nostalgia or it's your first time at a soccer game, Track 7 is the place to be on August 26."
"As one of Sacramento's longest established breweries and forever neighbors to Sacramento City College and Hughes Stadium, we're ecstatic to join forces with Republic FC to bring fans back to the neighborhood that first embraced both our brewery and our team," said Track 7 Brewing Co. Director of Customer Services, Jeanna Graham. "We look forward to welcoming back fans and creating new ones on August 26 for the gameday celebration of the decade, just as we used to 10 seasons ago in 2014."
Beginning at 5:00 p.m., fans can gather at the Track 7 Curtis Park taproom (3747 W. Pacific Ave.) to hang out with Republic FC's Cap City Crew, as well as former players and coaches. All fans wearing Republic FC gear will get a dollar discount on every pint of any of Track 7's core beers.
Tradition returns with the "March to the Match" starting at 6:30 p.m. All fans are welcome to join The Tower Bridge Battalion in singing, chanting, and waving flags as the group makes its way across the Sutterville Road overpass and into Hughes Stadium, just as supporters did in 2014 creating one of the most unforgettable moments in the club's story.
A special pre-game presentation will begin in the stadium at 7:00 p.m., with the club reflecting on its proud history by recognizing the people, moments, and partners that have made it all possible. Kickoff against Orange County SC is scheduled for 7:30 p.m. and tickets are available now starting at just $10 at SacRepublic FC.com/Hughes.