On Noche Latina, Republic FC and the Sacramento Hispanic Chamber of Commerce presented 21-year-old Missael Sanchez as the recipient of the 5th annual El Futuro Scholarship. A first generation college student, Sanchez is currently attending UC Davis studying Neurology, Physiology, and Behavior in a pre-med track to use as a stepping stone for medical school. Long-term, he hopes to make an impact on local mental health resources and services, especially in the Hispanic and Latino community.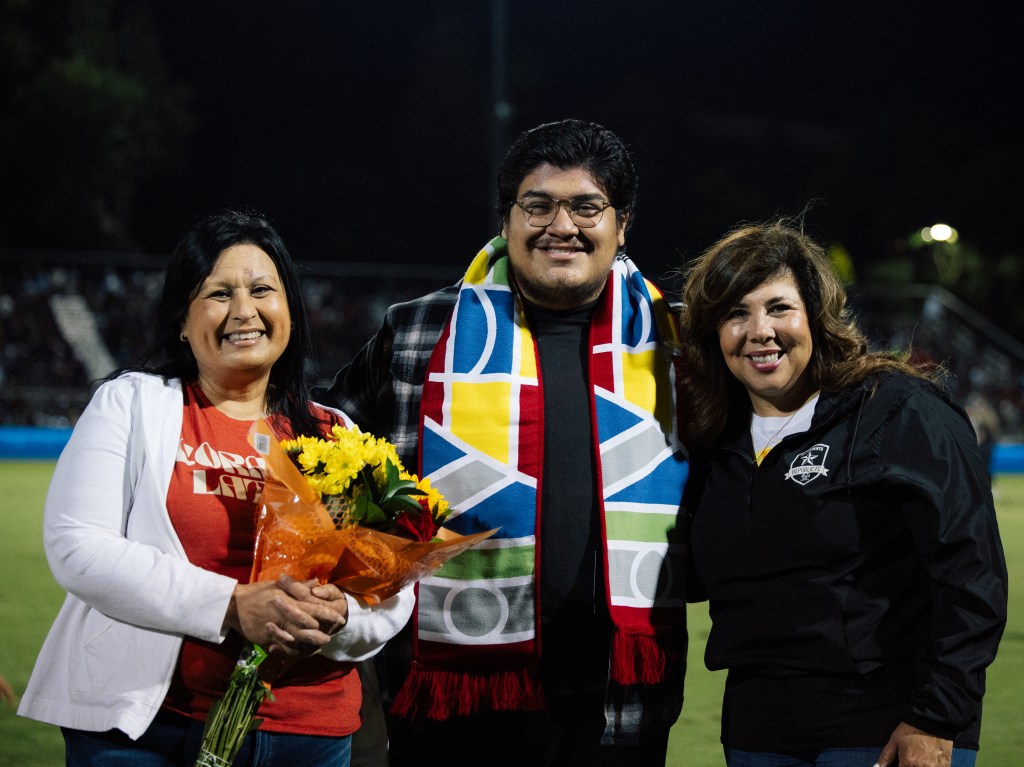 "My journey is not solely about my own aspirations; it's about channeling my experiences, my education, and my voice to spotlight the struggles of the marginalized and to work tirelessly towards a more equitable and compassionate world," says Sanchez. "In the realm of mental health, it is my fervent belief that every person, regardless of their background, deserves the opportunity to attain well-being and resilience, and I am committed to being a catalyst for change in achieving this vision."
In addition to his studies, Sanchez volunteers at Clínica Tepati – an undergraduate and medical student-run clinic that offers free medical services to the undocumented Latino community in the Sacramento region. At the clinic, students get first-hand experience of the day-to-day operations of the healthcare system – from receptionists and lab technicians, to educators and mental health advocates, and more.
"Clínica Tepati holds deep personal significance to me as it represents a beacon of hope, compassion, and resilience for underserved communities. It reminds me of the transformative impact that can be achieved when individuals come together to uplift one another. It fuels my own passion for healthcare equity and reinforces the belief that change is possible, even in the face of seemingly insurmountable challenges."
Sanchez draws on his personal experience and the culture he was raised in to grow and make a difference in the community. He has also added a minor in Chicano Studies to better understand the diverse history of his Mexican heritage and all cultures that are encapsulated in the Hispanic and Latino communities.
"As I continue my journey through higher education, I carry with me my stories, the hopes, and the struggles of my community. I am determined to be a catalyst for change, not only by advocating for equitable mental health resources but by embodying the resilience and strength that define the Hispanic and Latino spirit."
On his advice for other Hispanic and Latino students who are thinking about pursuing a higher education – especially those who might be the first in their family to do so – Sanchez says: "Go for it, the sky's the limit. In this country the American Dream is knowing when and how to break barriers and challenge yourself. I feel like being in uncomfortable situations is fostering growth in yourself and growth development. I feel like just going for it and although you may not expect the outcome, just knowing that you tried is all that matters."
Celebrate the passion of the beautiful game with our latest collection: Pasión y Orgullo
Discover the vibrant fusion of culture, sport, and design in our latest merchandise collection, a collaboration with local artists Rosa and Antonio Sarabia of Azules Design Studio. 10% of scarf proceeds will benefit La Familia Counseling Center.