Last Saturday's Republic FC match marked a special occasion for one of the club's youngest-ever players. The day before the game, Academy Forward Zeke Padilla found his name listed on the club's 18-man roster for the match – his first matchday selection since signing an Academy contract on May 25.
In the 87th minute, the forward heard his name called from the bench by Head Coach Mark Briggs. With three minutes to go and his side up a goal, he entered for Damia Viader to an ovation from the crowd, marking his first-team debut.
"It was a pretty unreal feeling," Padilla reflected on when he entered the match. "Since I was little, I've always dreamed, had that thought in my mind about playing in front of a large crowd and playing in a professional game. So it was a pretty cool moment."
Some 17-year-old's might be intimidated by their first taste of action alongside professionals. Padilla showed no hesitation – helping the club advance up the pitch as it looked for a second goal. After the match, Briggs had nothing but praise for the youngster for stepping up and playing well in a moment that often consumes the focus of young players.
A few days later, it's still a surreal experience for the Livingston native, who only joined Republic FC's Academy in January. He's only the 15th player from the club's youth system to appear for the first team since 2015, the first year of the club's academy. On the club's roster, he joins Rafael Jauregui and Mario Penagos, both professionals signed after being developed in the club's youth system, and fellow academy signees Ethan Kelly, Blake Willey, and Ermais Yohannes.
"It's unbelievable," Briggs said of Padilla's debut after the match. "I thought Zeke played with no fear at all. He went on the field as if he was meant to be there. He played like he had been a first team player for a couple of years, played without fear, got on the ball, went at people. I'm really proud of him and it's fantastic to see his family here to be able to witness him playing for the first team. That's what we want all Academy players to be able to do. And hopefully him getting on the field tonight and him making his first team debut makes a few other kids in our academy hungry to play in the first game in front of their families."
"The special thing I think was the professional environment – warming up, being in the locker room," Padilla continued. "I've always wanted to be there, but I've never pictured it like that."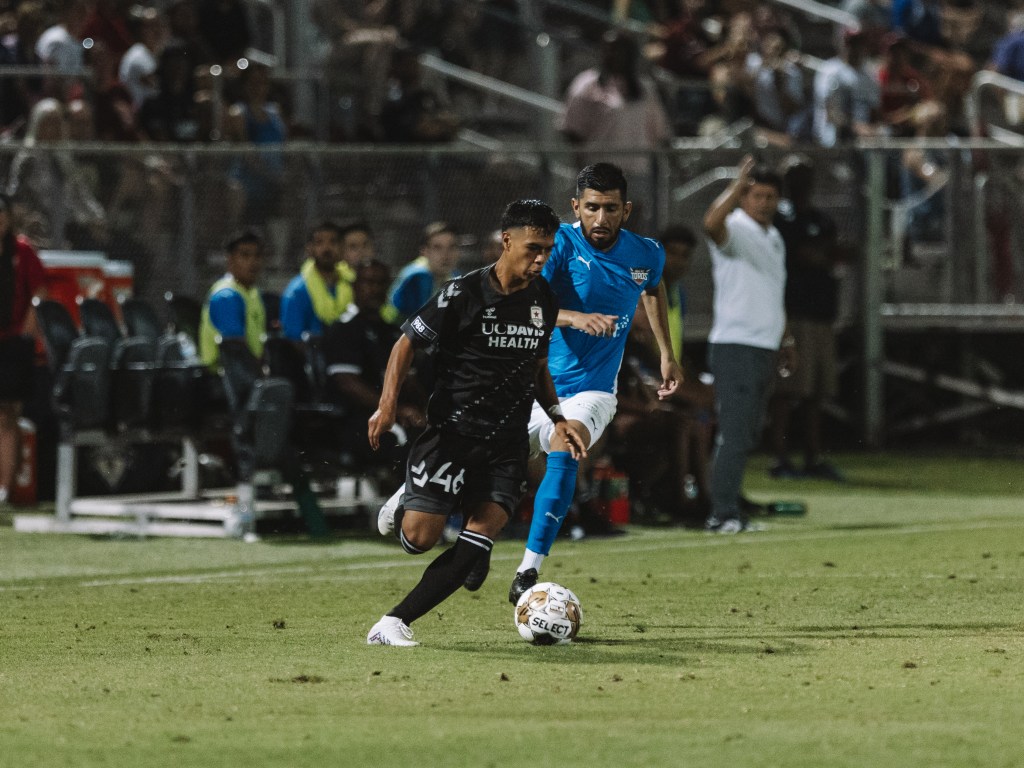 Cheering the loudest were his friends and family, who got the chance to see him play for his hometown club. All evening – from warm-ups to the time he entered, his parents, siblings, cousins, and friends in attendance were on the first-row railing waiting for the moment to come, wearing jerseys with his name on the back. It's an experience they'll certainly remember forever – and one unique to the opportunity Sacramento's academy provides. No other club in the region can progress a young player through the youth game and into the professional level.
"Ever since I was little my family's always been there supporting me through the academy, always going to my games, always taking me to training," Padilla continued. "That was pretty cool, when I told them that I'd be on the bench – they were all excited. And then when I went on, had some friends, my family, couple cousins, they came. They were all pumped when they were able to see me play."
Padilla's debut also marked another success story for the club's academy, developing another young player to be first-team ready. Sacramento's academy remains the top destination for local players – like Padilla – to move up and grow in football, and eventually play for their hometown squad. Hopefully, his debut pushes others to do the same.
"For the Academy, players always want to play for the first team," he continued. "Me and a couple other guys playing definitely pushes the kids in the Academy – because they see that if we can do it, they can do it too."