Sacramento, Calif. – Today, Republic FC announced that the club has signed two standout players from its Youth Development Academy to first team professional contracts. Midfielder Blake Willey (pronunciation: Will-ee), and defender Chibuike "Chibi" Ukaegbu (pronunciation: Chi-bee-Kay oo-Kay-boo) will be added to the club's first team roster for the 2024 season pending league and federation approval. Willey and Ukaegbu become the seventh and eighth players to rise through the club's youth system and sign a professional contract with their hometown club.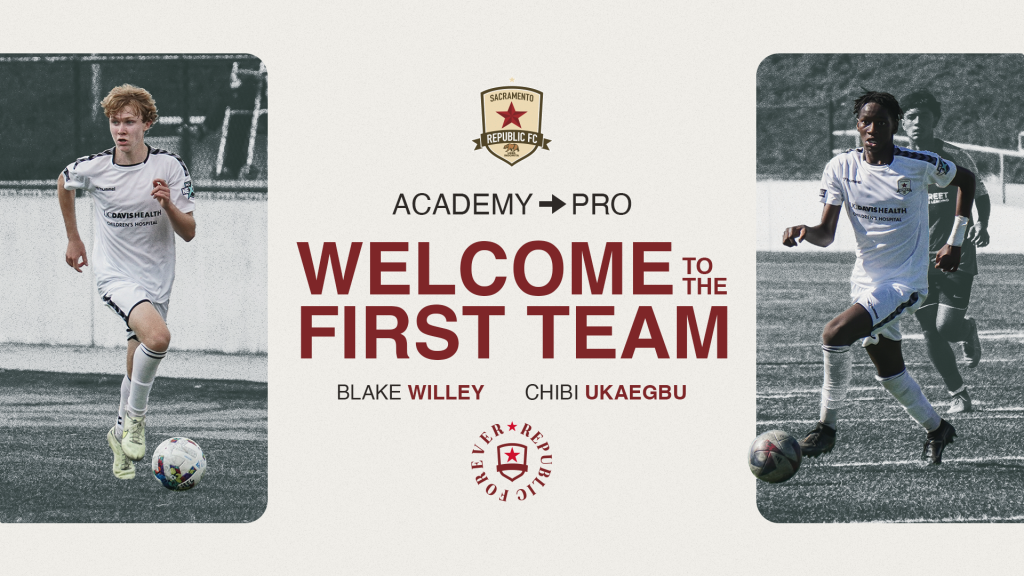 "Today is a very exciting day for youth soccer in our region," said Republic FC President and General Manager Todd Dunivant. "It's important to us to advance local products through the ranks, and today's signings are reflective of our Academy's continuous hard work developing elite talent. Both Chibi and Blake have very bright futures ahead of them and will be important pieces as we complete for silverware in 2024 and beyond."
"Blake and Chibi each worked incredibly hard on the field this past season and proved they fit in with our first team squad," said Republic FC Head Coach Mark Briggs. "Their signing is a great example of the character and talent within our club and the Sacramento region, and it is exciting to see them take the next step to begin their professional careers."
Both players, each Sacramento area natives, featured for locally-based youth clubs prior to joining Republic FC – Willey for Sacramento United and Ukaegbu for FC Sporting. Throughout the 2023 season, each earned opportunities in training with the club's professional squad through the Academy's High Potential Player program. In April, Willey signed an Academy Contract, making him eligible to compete in USL Championship matches, and was twice named to the matchday roster in the regular season.
Ukaegbu, 16, joins the club's professional squad after two seasons in the club's academy system. He appeared in 60 matches as a defender for the club's youth sides since 2021, scored three goals, and helped the club's U15 and U17 teams reach the 2022 and 2023 MLS NEXT Cup playoffs and this fall's USL Academy U-20 side challenge for the NorCal Division title. After joining Republic FC's academy, he was identified as one of the top youth players in Northern California, and earned an invitation to the Fall YNT Regional ID Center in San Jose. Throughout Republic FC's 2023 USL Championship season, Ukaegbu earned opportunities to train with the club's first team, including action in preseason friendlies against other professional clubs.
Willey, 16, has featured at every age level since joining Republic FC's academy in 2017. The midfielder was voted the team MVP of Sacramento's U-15 side for the 2021-22 Academy season when his squad advanced to the semifinals of MLS NEXT Cup, the only non-MLS club to reach that phase of the tournament. Since 2022, he has earned three call-ups to the United States Youth National Team – twice to the U-16's, including a trip to Spain for an international tournament where he was the only representative from a USL-affiliated academy squad – and once to the U-17's this past October. This season, he's been a key contributor to his academy squad's undefeated start to the season, which includes wins over MLS-affiliated opponents Seattle Sounders FC, San Jose Earthquakes, and Real Salt Lake.
Since 2015, Republic FC's Academy has created a strong local pipeline of players ready for professional level competition. Thirty-seven elite players from the club's youth ranks have featured for the club's first team, including 34 on a USL Academy Contract. 23 players have gone on to sign professional contracts with Republic FC or other clubs after featuring in the club's Academy system. In 2023, eight players that featured in the club's academy system recorded minutes with Republic FC's first team in USL Championship or U.S. Open Cup matches.
Both Willey and Ukaegbu are currently enrolled at Elk Grove Charter School, the club's education partner. Since 2021, the partnership has allowed students the ability to continue to focus on their education, while continuing a pathway as elite athletes. Current and former members of Republic FC's academy have attended Elk Grove Charter School to continue their education while pursuing their pathway to the professional ranks.
Republic FC will continue to build its roster for the 2024 USL Championship season. In January, the club will host its annual Open Tryout, when the region's best players get the opportunity to impress the team's technical staff and earn an invitation to training camp. Registration will open early December.
Season ticket memberships for the 2024 season are now on sale. To learn more about membership benefits – including how to secure the best seats at the lowest price per match – visit SacRepbulicFC.com/memberships.
For more information, visit SacRepublicFC.com.