Today is GivingTuesday, a global movement that reimagines a world built upon shared humanity and generosity. Across six continents, millions of people will come together today in commitment to transforming their communities for the better.
Here in Sacramento, Republic FC is calling on the community to support the 4th Annual Winter Wishlist Toy & Coat Drive. Since 2020, the club – along with partners, fans, and the general public – has collected thousands of new toys and coats to make holiday wishes come true for children and families in North Sacramento.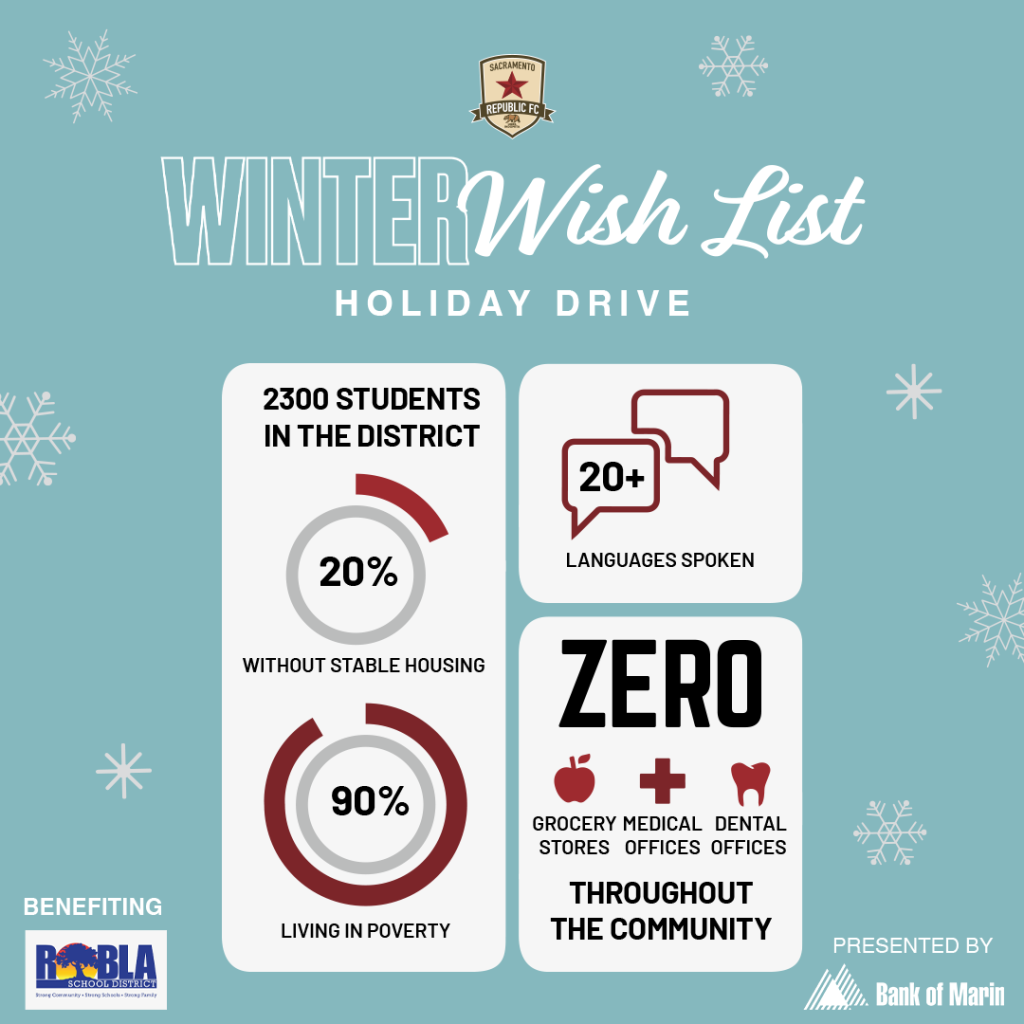 "We first heard about Robla School District in 2020, when teachers and administrators were literally going door to door to check on students who weren't logging on to classes," explained Republic FC Director of Community Investment Kevin Burdick. "What they discovered was that many of these families were lacking access to some of the basic needs that are essential to creating a safe environment for students to learn and thrive – from internet access, to stable housing, to food services. Since then, the district has become a resource and a lifeline for many of the families."
Robla is one of the oldest school districts in the region and serves approximately 2,000 students, with more than 90% of the district's families living at or below the federal poverty line. Additionally, more than 20% of students lack a fixed, adequate, and regular nighttime residence.
"When we learned about the challenges that Robla students face every day, we knew we wanted to help," continued Burdick. "A warm coat or a new toy is something that so many of us take for granted, but for these families, what we are able to provide is literally what can make a family's holiday a memorable one. And without the support of our partners and fans since 2020, none of it would be possible."
Here's how you can support Winter Wishlist this GivingTuesday:
Amazon
Select from a variety of age-appropriate toys and coats, specially-curated with the Robla School District students in mind. Purchases will be shipped directly to the Republic FC front office for distribution.
Monetary Donations
Let us do the shopping for you! Make a donation to the Republic FC Foundation through the Team Store to benefit the Winter Wishlist program.
For more information on Winter Wishlist – including donation drop-off locations – visit SacRepublicFC.com/Wishlist.