Republic FC clinched a postseason berth on September 16 and locked in a first-round home match over the weekend
Members exclusive presale available now, and public on-sale begins at 10:00 a.m. on Wednesday at SacRepublicFC.com/tickets
For information on exclusive access to playoff tickets, fans can join the club's insider list at SacRepublicFC.com/playoffs
SACRAMENTO, Calif. – Following results from around the league over the weekend, Republic FC has secured a first round home playoff match to be played on Saturday, October 21. The club's opponent will be determined and announced at the conclusion of the regular season on October 14.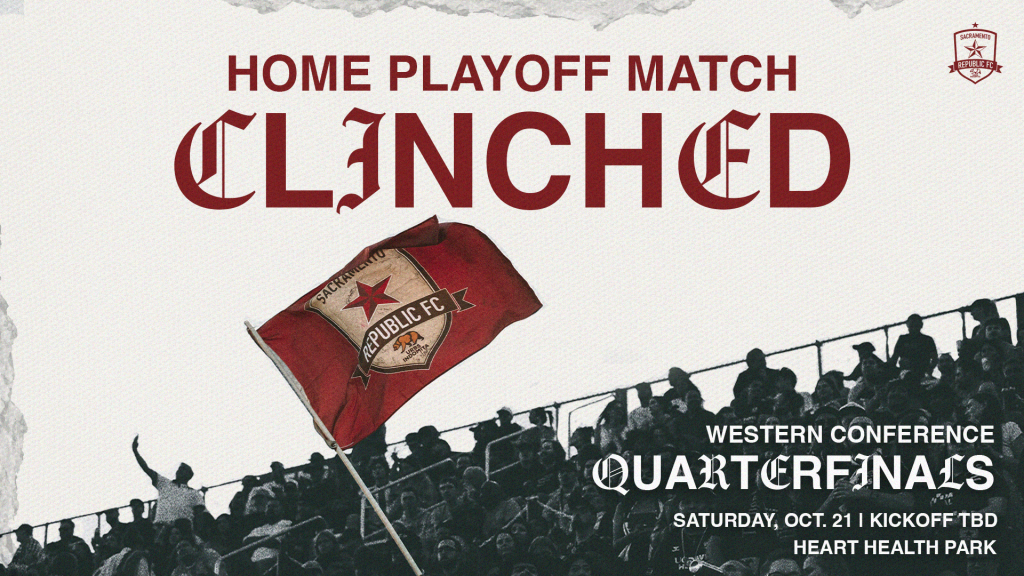 Fans can get exclusive early access to Tuesday's presale by joining the club's insider list at SacRepublicFC.com/playoffs. General public on sale will begin on Wednesday, October 4 at 10:00 a.m. PT at SacRepublicFC.com/tickets. Indomitable Members can access an exclusive presale now via Ticketmaster Account Manager.
The USL Championship playoffs begin with the Conference Quarterfinal round the weekend of October 20-22. The top eight regular season finishers from each conference qualify for the postseason and will enter a single-elimination bracket leading to the Final. Hosting rights for each match are determined by each club's regular season record. Republic FC has qualified for the USL Championship playoffs nine times, winning the league title in its inaugural 2014 season. Last season, Republic FC reached the Conference Semifinal round after finishing fourth in the Western Conference and defeating New Mexico United at Heart Health Park in the first round.
Republic FC continues regular season play this weekend in its final road match of the 2023 season on Saturday, October 7 against Rio Grande Valley FC. Fans wishing to cheer on the squad alongside other supporters can join the club for a free watch party at Mojo's Local Tap & Kitchen on I St – visit SacRepublicFC.com/watchparty. Kickoff is set for 5:00 p.m. PT, and the match will be broadcast live on FOX40.com and the FOX40 News mobile app, Antenna TV 40.2, and streaming on ESPN+. The club returns home for its final regular season match the following Saturday on October 14 against Eastern Conference side Miami FC. Tickets are available at SacRepublicFC.com/tickets.