Kimbrough becomes the youngest professional athlete in American team sports
Named Most Valuable Player in 2023 Bassevelde U13 Cup, playing against the world's most prestigious youth clubs including Juventus and Benfica
In two academy seasons, he scored 61 goals – including a season as forward for the best U13 team in the country as a 12-year-old
Republic FC has supported the development of hundreds of Northern California youth players since 2015 with 24 alumni earning professional contracts around the world, with their hometown first team, and becoming selections in the annual MLS SuperDraft
SACRAMENTO, Calif. — Today, Republic FC announced Da'vian Kimbrough, a member of the club's youth development academy, has signed his first professional contract making him eligible to compete for the club's first team. In signing his first professional contract, Da'vian is the youngest professional athlete in American team sports history (13 years, 5 months, 13 days). As he begins his third year with Republic FC, he will be added to the club's first-team roster pending league and federation approval, and continue his development as one of the team's high potential players in the academy. Per club policy, the terms of the contract were not disclosed.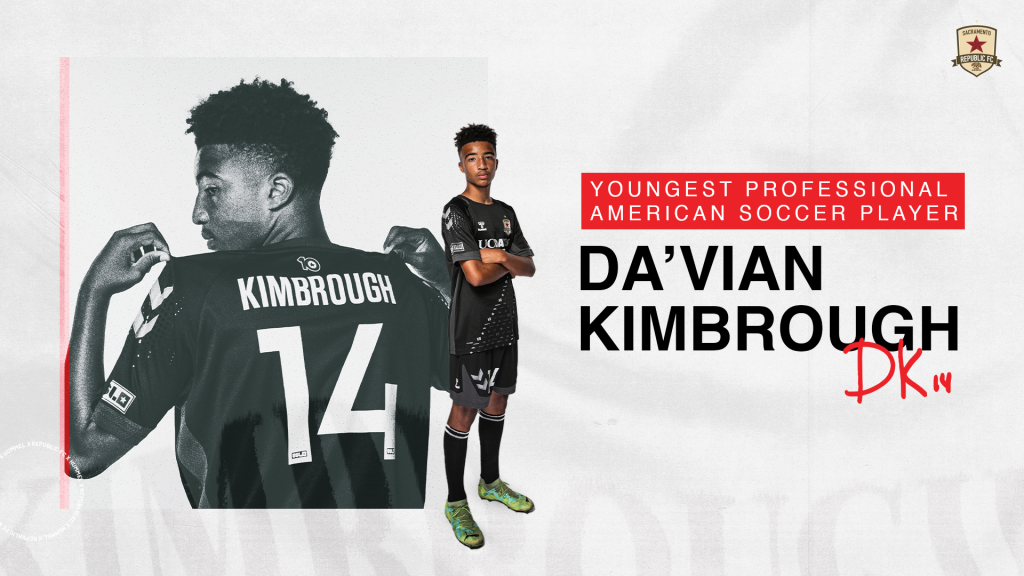 "Da'vian's journey with Republic FC is just beginning. He is a remarkable talent who has committed to his dream of becoming an elite player, from competing with players in older age groups and thriving at top competitions, to stepping on to the first team training grounds," said Republic FC President and General Manager Todd Dunivant. "We are honored that the Kimbrough family and Da'vian have chosen Republic FC to support his professional pathway, and we look forward to taking the next steps together."
"A young player's path is never the same as the person seated next to them. Da'vian has shown tremendous focus, commitment and dedication, as well as a willingness to embrace the challenging road ahead of him," said Head Coach Mark Briggs. "Over the last two years he has demonstrated his tremendous potential, and our goal is to continue to support and help him grow as a player and person."
"With each player that comes through our academy, our approach is unique and tailored to help the individual find their best journey," said Academy Director Eder Quintanilla. "Da'vian is a special player who has thrived in difficult and challenging environments. We're excited to be a part of the next step in his development, and to continue to support his professional dream."
Kimbrough joined Republic FC's Academy in 2021 at age 11, playing up one age division. In his first season, he scored a team-leading 27 goals in 31 matches, helping Sacramento's U13 side to the best record of any team in their age group nation-wide with 30 wins and just one loss in league play, including 27 consecutive victories to open the season. In his second season, Kimbrough and the U14 squad finished first in MLS NEXT division play with a 26-5-3 record, outscoring opponents 148-22. As part of the high potential training program, he would join the U15 team for select matches against older competition. In two seasons of MLS NEXT league play, he scored 61 goals in 81 appearances.
After a successful MLS NEXT Flex tournament, Kimbrough was recruited to serve as a guest player at the Bassevelde U13 Cup, one of the most prestigious youth tournaments across the globe. Up against some of the top clubs in the world – including Juventus and Benfica, Kimbrough scored six goals and was named the tournament MVP, leading New York Red Bulls Academy to be the first MLS club to lift the championship trophy. Other notable footballers that have gotten their start in the tournament include 2022 Premier League MVP Kevin De Bruyne and Real Madrid goalkeeper Thibault Courtois.
Before joining Republic FC's Academy, Da'vian's development began with the coaching staff at North Bay Elite Futbol Club in Solano County, as well as Woodland Soccer Club of Yolo County. In his time with Republic FC, Kimbrough was also selected to participate in his first U.S. Youth National Team ID Center last October. As his development progressed, he would join older age groups, Republic FC's high potential training programs, and eventually first team training sessions in preparation to take the next step.
Da'vian will now be eligible to complete for Republic FC in USL Championship matches. His training schedule will be modified and monitored with the club's sports medicine staff, in consultation with his family and USL safeguarding guidelines. He will continue a mixed training regimen that provides him the benefits of competing with professional players on the first team, as well as the unique development opportunities that happen in Academy competition. He will continue his studies and will be able to join Republic FC's education partner – Elk Grove Charter School – in the future.
Kimbrough is now the sixth Republic FC Academy player to sign a professional contract with the club and the 25th to sign a professional contract overall. Since its inception in 2015, the club's youth academy has offered the region's only professional pathway to support the development of the region's best players. The program has created a pipeline for 34 players to earn first-team opportunities through USL Academy contracts, with eight players joining MLS-affiliated clubs.
Kimbrough will be eligible for selection ahead of Saturday's match against Birmingham Legion FC at Protective Stadium. Kickoff is set for 4:30 p.m. PT and the match will be broadcast in English and Spanish on FOX40.com, the FOX40 News Mobile App, Antenna 40.2, and streaming on ESPN+. Republic FC's next home match is on August 26, when the club hosts its 10th Season Celebration Match at historic Hughes Stadium. For more information or to purchase tickets starting at just $10, visit SacRepublicFC.com/Hughes.
---
TRANSACTION: Republic FC signed forward Da'vian Kimbrough.
Da'vian Kimbrough (Day-vee-Ahn Kimm-broh)
Position: Forward
Height: 5'11"
Weight: 150 lbs.
Birthdate: February 18, 2010
Age: 13
Number: 14
Hometown: Woodland, California
Nationality: United States and Mexico
How Acquired: Academy signing
Previous Clubs: Woodland Soccer Club and North Bay Elite FC